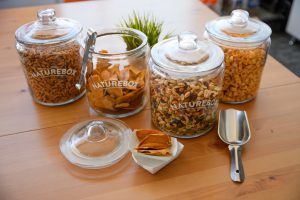 As many of us find ourselves back in the office after an eventful year, even small things can improve your employee's experience.
Since employee's no longer have access to the fresh lunches and healthy snack options they had at home, now's the time to get creative with the kitchen items you stock up on for your office.
Setting out mini bags of chips and calling it a day is so 2020. Research from the World Health Organization shows adequate nutrition can improve productivity by an average of 20%, so spicing up the office pantry has its perks.
If you're looking to surprise and delight your employees with foods that taste as good as they make them feel, here are the essentials to include in your communal kitchen and office pantry.
The basics
Let's start with the core spices like salt and pepper. And don't forget to grab popular condiments for different styles of cuisines such as ketchup, hummus, hot sauce, pesto, and salsa. Choose organic and local, if possible.
Other must-haves include:
Butter

Olive oil

Sugar

Honey

Nut butter of any kind

Vinegar (white and/or red)

Broth

Maple syrup
This is less about what's "healthy" and more about making sure your employees feel taken care of and supported. Especially when it comes to what fuels them during the day.
Caffeine
Speaking of fuel, every office kitchen needs some source of caffeine. 
There are two primary ways for your employees to get it: Coffee or tea. 
You can opt for the basic coffee maker and stock up on pre-ground beans or decide to mix it up and keep some pre-made coffee drinks on hand. Or if your office is full of tea drinkers, splurge on loose leaf tea rather than the ones that come prepackaged. 
These little touches add to your employee's overall work experience. There's no detail too small.
Fruit
When it comes to supplying the communal kitchen with healthy options, you can't go wrong with fresh and dried fruit.
You can keep a big bowl of apples, oranges, and bananas out to entice those walking by or simply offer dried fruit snacks they can bring back to their desk. Make it easy for everyone to make good choices.
Breakfast options
Besides fruit, oatmeal is another powerful way to start your workday. It's filling, full of fiber, and packed with nutrients. 
If your team is constantly watching the clock waiting for lunch, stock your pantry with some delicious oatmeal to leave everyone satiated and satisfied. This alternative to sugary cereal will enhance productivity since they won't have to go back and forth to the kitchen to munch.
Snackable items
But if you do have employees who prefer to nibble on something throughout the day rather than eat a full meal, at least make sure the snacks they choose are functional. 
Keep it simple with this snack mix with yogurt and be sure to grab some spicy trail mix to cater to everyone's preferences in the office. 
Nuts
Want the snack mixes without the frills? Nuts are great for your body and your mind, since they contain powerful antioxidants as well as essential oils and amino acids that aid your focus.
 Liven up your nut selection with exciting flavors and plenty of options for all taste buds.
Healthy twists on old favorites
That sad bag of chips – filled with mostly air anyway – needs to go. Get the same crunch with less than half the carbs by replacing it with a healthier alternative. 
Functional foods
A change in routine, like going back into the office to work, brings unwanted stress along with it. Functional foods provide the benefits our bodies need right now to bring everything back into balance.
From delicious bars and fruit chews to pretzels and popcorn, healthy doesn't have to be boring. In fact, snacks can be crazy delicious and good for your employees if you choose ones with ingredients like:
Something light
Sometimes you just want something light and snackable to get you through your workday. Enter: popcorn and pretzels. 
Stock up with a variety of styles and flavors to really surprise and delight your team.
Sweet treats
Although, as good as salty foods can be, sometimes you need something to satisfy your sweet tooth. In that case, bring on the cookies! 
Whether your employees want something simple or are looking for ones with ingredients that help regulate stress levels, you'll have it all covered.
Other tasty treats to stock up on for special occasions:
Chocolate bars

Cookie dough

Ice cream
For the meat eaters
And we can't forget about the carnivores. 
High in protein and full of flavor, beef biltong or jerky is a snack that will fill up whoever decides to devour it. Plus, it's a quick, healthy item for your employee's grab as they walk to their next meeting.
We hope this office manager's guide to healthy office kitchen snacks helps you and your employees stay productive and satisfied. The days of stark pantries and kitchens packed with junk food are over. Stock up on functional snacks that taste as good as they make you feel. Your team will thank you!