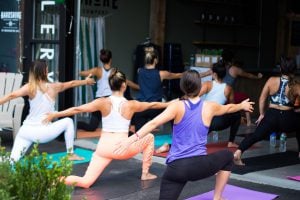 It's well known by now that employee wellness and employee performance are linked. But did you know a workplace culture of wellness impacts more than the bottom line? 
When a company places a high priority on the health – physical and mental – of their employees, it creates an engaged workforce. This reduces turnover as well as the chance of burnout. Plus, as Harvard Business Review reports, employers who invest in health and wellness initiatives see an average of $6 in healthcare savings for every dollar invested. 
Want to improve your employees' health, see productivity skyrocket, and watch you and your team reap the rewards? The answer is to cultivate a culture of wellness.
One way to do that is to implement a comprehensive workplace wellness program. The most effective plans include physical health initiatives and mental health support.
To promote, support, and boost employee health and wellness, which in turn improves performance and engagement, here is a list of 11 physical and mental health initiatives to add to your wellness program.
1. Healthy snack options
Take a look inside your office kitchen. What kind of food is in there? 
If you're looking at snacks and treats loaded with sugar or unnecessary ingredients, it's time to swap it out with better for you options that leave your team feeling satisfied and focused.
Your employees are bound to sneak a snack now and then. Help them do it mindfully with healthy treats they'll actually enjoy! 
All NatureBox snacks and Partner Market offerings are flavorful and functional. That means your employees don't have to sacrifice taste to eat well.
2. Health education workshops
TIme to bring in the experts! Help your team build healthy habits while they learn about the benefits of exercise, the proper form, and more.
Just don't forget your remote employees! This can be recorded live and saved for your virtual team members so they can be a part of this health initiative
3. On-site workout rooms
If you don't have it already, a designated workout space within the office is a good idea. It's a great way to encourage your employees to get moving, which helps spark creativity and get the juices flowing.
Encourage your remote workers to schedule time each day to take a walk or stretch. They may not have the designated space, but the idea is the same. Frequent movement improves both their health and the quality of work they produce.
4. Group fitness classes
Get your employees away from their computers and give them something to look forward to.
Offer a weekly fitness class to let them sweat it out during their lunch breaks. Mid-day movement can reinvigorate your employees. They'll leave feeling refreshed and ready to tackle the rest of the day.
5. Employee wellness challenges
Nothing will inspire your employees to give it their all than some healthy competition. Design a wellness challenge everyone can participate in. Choose activities that encourage team bonding and help them form healthy habits.
6. Sponsor a company retreat
If you want an initiative to promote team-building, look no further than a company retreat. The experience will help restore employee pride, trust, and commitment, which are all vital attributes of a thriving company.
7. 30 days of gratitude
A gratitude challenge encourages your employees to develop a resilient and appreciative mindset. This will help them cultivate a can-do attitude to navigate obstacles at work without letting the stress overcome them.
8. Flexible work arrangements
Another way to reduce the likelihood of burnout and increase employee trust and commitment is to offer flexible work schedules. Whether this includes a 4-day work-week, a hybrid arrangement, or something else entirely will depend on your and your employees' needs. 
You can strengthen employee trust – and even increase productivity – by allowing them to create a schedule that works for them. If offering free reign isn't possible, a slight give is better than nothing.
9. Introduce pet-friendly Friday's
Reduce stress, increase output, and boost collaboration with a pet-friendly office. Even if you allow your employees' pets to come in once a week, it can have a huge effect on their mental wellbeing.
This is an especially beneficial option as many companies begin the transition back to the office.
10. Workplace healthcare services
If it's in your company's budget, opt in to a mental health service provider like Lyra, Ginger, or Modern Health. These types of services help your employees be their best selves at work. And the positive impact you'll see as a result includes lower health care costs, absenteeism, turnover, and higher productivity.
11. Personalized gifts
In the end, there's really nothing that has a greater effect on employee wellbeing than showing them you care about each of them as individuals outside of work. 
One way to do this? Send customized snack boxes with your employees' favorite treats that arrive at their doorstep. You can also buy a special gift they know is meant just for them. The more unique and personalized to them, the better!
We hope these ideas inspire you to prioritize your team's physical and mental wellness. Because when you do, everyone wins.