What're you having for dinner – Greek? American? Have the best of both worlds with this delicious recipe! We added cucumbers, kalamata olives, pepperoncinis and feta to good ol' sloppy joes and stuffed them into pitas for a healthier, new spin on a classic American dish.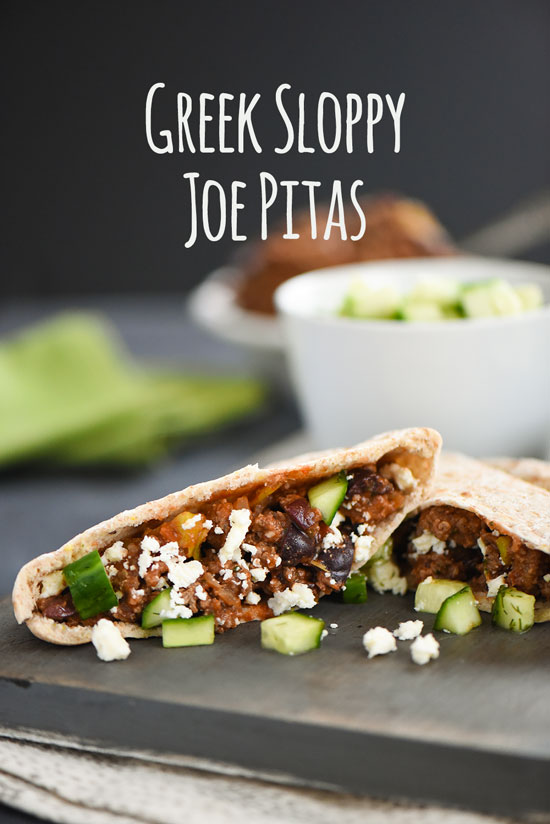 Serves: 4
Prep Time: 15 minutes
Cook Time: 12 minutes
Ingredients:
1 pound lean ground beef
1/2 cup chopped yellow onion
1 tablespoon minced garlic
1 can (8 ounces) tomato sauce
3 tablespoons chopped pitted kalamata olives
2 tablespoons sliced pepperoncini
2 tablespoons tomato paste
2 teaspoons dried oregano
1/4 teaspoon ground black pepper
1/2 English cucumber, diced
1 teaspoon chopped fresh dill
4 whole grain pita pockets
1/4 cup crumbled feta cheese

Directions:
1. Place beef and onion in large skillet over medium-high heat. Cook 8 to 10 minutes or until beef is cooked through, breaking up meat with side of spoon as it cooks. Stir in garlic; cook 1 minute, stirring constantly.
2. Reduce heat to medium. Stir in tomato sauce, olives, pepperoncini, tomato paste, oregano and black pepper; cook 2 minutes or until heated through.
3. Meanwhile, in small bowl, toss cucumber and dill until well combined.
4. Divide meat mixture between pita pockets. Top with feta and cucumber mixture; serve immediately.
Get more healthy ideas and delicious snacks by joining NatureBox. 
Lori Yates is a Detroit-area food writer and recipe developer. She is the author of Foxes Love Lemons, where she posts special yet simple original recipes, tips from her culinary school adventures and restaurant reviews. Her mission is to encourage people to enjoy the act of cooking at home. You can follow her on Facebook and Twitter @foxeslovelemons.