by Amanda Natividad, NatureBox Editor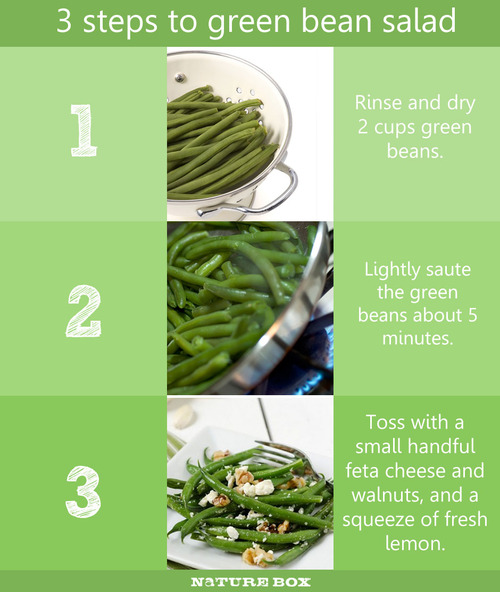 1. Rinse and dry 2 cups of green beans. For this particular recipe, this amount will serve about 3-4. Once the green beans are clean, you can trim the ends for a prettier finished dish.
2. Lightly saute the green beans about 5 minutes. There's no need to cook them down for long. Just cook them until they're slightly softened but still have a bit of crunch to them, about 5 minutes.
3. Toss with a small handful feta cheese and walnuts, and a squeeze of fresh lemon. You can add a bit less or a bit more cheese and walnuts. Using about a handful should equal about 1/4 cup. Squeeze a fresh lemon wedge over the top adds a bright, juicy flavor!
Get more healthy ideas and delicious snacks by joining NatureBox. Enter coupon code NATURE for 25% off your first month subscription!
Amanda really wants to help you cook delicious foods and sustain a healthier lifestyle. When she's not goofing around on Twitter she's probably noshing on the pile of NatureBox snacks at her desk.