What better way to bring your friends and loved ones together than with a night of good food at a backyard barbecue? Recently, my fiance and I had our first grillout, so I reached for one of my most trusted recipes in the recipe rolodex, this grilled veggie recipe using fresh summer vegetables. It's easy to marinate, easy to grill and of course, easy to make for large groups – so there's plenty to go around!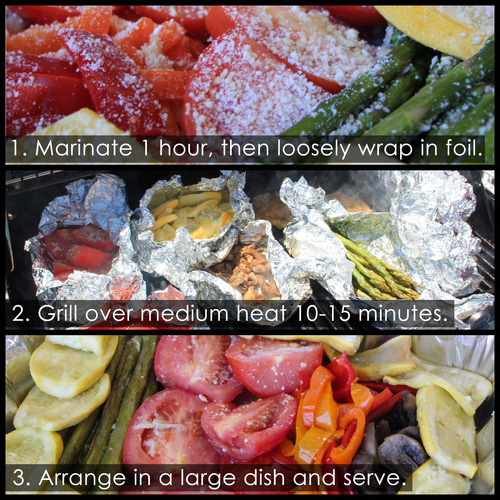 Serves: 12-14
Prep time: 15 minutes
Grill time: 10-15 minutes
Ingredients:
3 1/2 pounds of assorted vegetables (we used: summer squash, mushrooms, tomatoes, red bell peppers, orange bell peppers and asparagus)
2 tablespoons apple cider vinegar
1 tablespoon lemon juice
1 teaspoon olive oil
1 tablespoon Parmesan cheese
1 teaspoon garlic powder
1/2 teaspoon kosher salt
Directions:
1.Prep and marinate the vegetables: After washing the vegetables, slice the tomatoes and mushrooms in halves, trim the ends of the asparagus, and cut the remaining vegetables any way you like. Place the vegetables into a shallow bowl or large ziploc bag. Mix in apple cider vinegar, lemon juice, olive oil, Parmesan cheese, garlic powder and salt. Let sit 1 hour or overnight.
2. Wrap and grill: Wrap each vegetable type in aluminum foil and place on the grill over medium heat until done, about 10-15 minutes.
3. Plate. Arrange the vegetables in a large dish or tray and serve.
Get more healthy ideas and delicious snacks by joining NatureBox. Enter coupon code NATURE for 25% off your first month subscription!
Lorig knows the importance of maintaining a balanced lifestyle and wants to share some of her healthy alternatives to summer favorites!