Wonton wrappers. Marinara sauces. And egg. Those are the three basic ingredients you need for this eggcellent breakfast dish. Simply layer them into your muffin pan then pop them into the oven for an easy, no-fuss morning meal that's perfect for big families or large groups.
Makes: 8 cups
Prep time: 10 minutes
Cook time: 18 minutes
Ingredients:
Organic nonstick cooking spray
16 (4-1/2-inch square) wonton wrappers
3/4 cup marinara sauce
8 eggs
Chopped fresh basil, for garnish (optional)
Grated Parmesan cheese, for garnish (optional)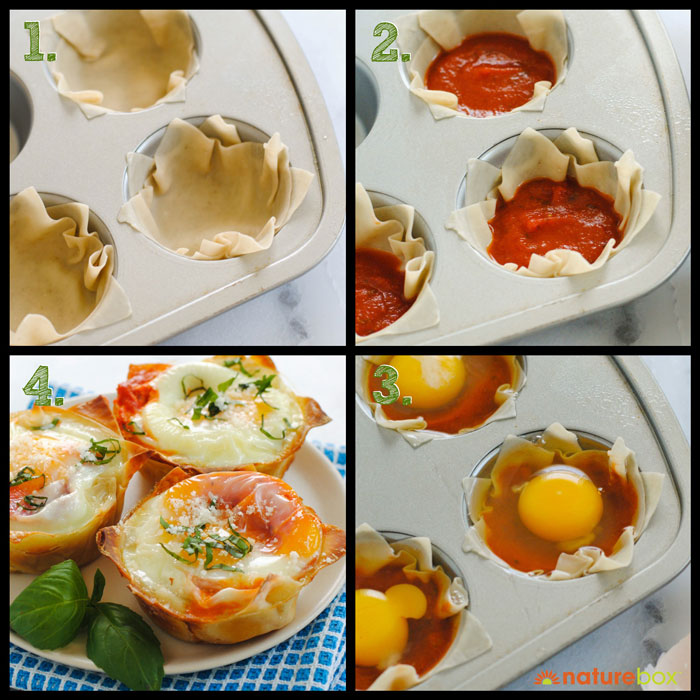 Directions:
1. Preheat oven to 350 degrees F. Spray a standard muffin tin with cooking spray. Press 8 wonton wrappers into muffin cups. Gently press a second wonton wrapper into each cup, with corners of second wrapper offset from corners of first wrapper. Take care to press against bottom and sides of cups. Lightly spray wrappers with additional cooking spray.
2. Place 1-1/2 tablespoons marinara in each cup, then crack 1 egg into each cup.
3. Bake 18 to 20 minutes or until egg whites are set and yolks are still soft. Remove wonton cups from muffin pan and garnish with basil and cheese, if desired. Serve immediately.
Still hungry? Check out our other other 3-step recipes!
Get more healthy ideas and delicious snacks by joining NatureBox. Sign up today to get $10 off your first box!