Hosting a last minute dinner party? No problem! Dress up your Brussels sprouts with this super quick and easy recipe. Maple syrup and freshly squeezed lemon juice create the perfect blend of sweet and tangy flavors. Don't forget the chili pepper for a nice little kick!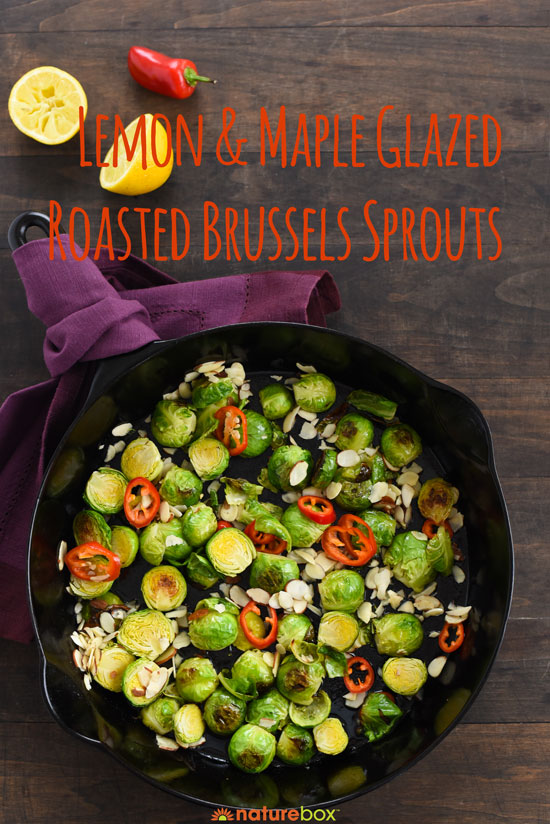 Serves: 4
Prep Time: 15 minutes
Cook Time: 10 minutes
Ingredients:
3/4 pound brussels sprouts, stems removed, halved
1 tablespoon extra virgin olive oil
2 tablespoons maple syrup
1-1/2 tablespoons fresh lemon juice
1 teaspoon Dijon mustard
Pinch of kosher salt and ground black pepper
1 Fresno chili pepper, thinly sliced
1/4 cup sliced almonds (NatureBox Citrus Kick Almonds also work well!)
Directions:
1. Preheat oven to 425 degrees F. Place brussels sprouts in cast iron or other oven-proof skillet; toss with oil. Transfer to oven and roast 10 to 12 minutes or until lightly browned and tender.
2. In small bowl, whisk together maple syrup, lemon juice, mustard and salt and pepper.
3. Remove brussels sprouts from oven. Add Fresno pepper, almonds and maple syrup mixture to skillet; toss until well combined.
Still hungry? Check out our other other 3-step recipes!
Get more healthy ideas and delicious snacks by joining NatureBox. Sign up today to kick off your membership with a free trial!
Lori Yates is a Detroit-area food writer and recipe developer. She is the author of Foxes Love Lemons, where she posts special yet simple original recipes, tips from her culinary school adventures and restaurant reviews. Her mission is to encourage people to enjoy the act of cooking at home. You can follow her on Facebook and Twitter @foxeslovelemons.