Who wouldn't be looking for a quick 3-step recipe in time for the holidays? Instead of the usual cookies or cake, try making these mini baklava tarts. (Don't worry; they're easier than you might think!)
akes: 15 tarts
Prep Time: 15 minutes
Ingredients:
1 box (15 count) mini fillo (phyllo) shells
1/3 cup shelled pistachios
1/3 cup shelled walnuts
2 tablespoons honey
1 tablespoon fresh orange juice
1 tablespoon melted butter
1/2 teaspoon ground cinnamon
1/2 teaspoon ground cloves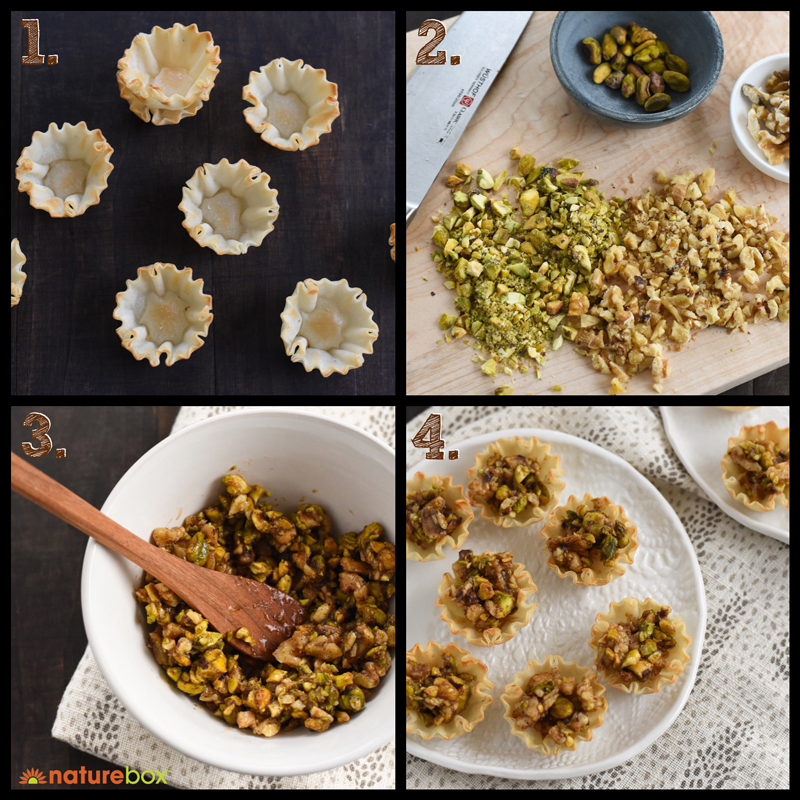 Directions:
1. Remove phyllo shells from freezer and bring to room temperature.
2. Meanwhile, finely chop pistachios and walnuts.
3. In small bowl, stir together honey, orange juice, butter, cinnamon and cloves. Stir in nuts. Spoon 2 teaspoons filling into each phyllo cup. Serve immediately or cover and refrigerate up to 2 hours.
In a time crunch? Try our other 3-step recipes!
Get more healthy ideas and delicious snacks by joining NatureBox. Sign up today to kick off your membership with a free trial!