Gear up for the holidays with this quick and easy sweet treat. Less time in the kitchen and more time to share this dish with your loved ones!
Serves: 2
Prep Time: 10 minutes
Bake Time: 25 minutes
Ingredients:
Organic nonstick cooking spray
2 Bosc pears, cored and cut into 1-1/2 inch pieces
1-1/2 tablespoons honey
3 tablespoons old fashioned rolled oats
2 tablespoons butterscotch chips
2 tablespoons chopped macadamia nuts
1 tablespoon unsalted butter, melted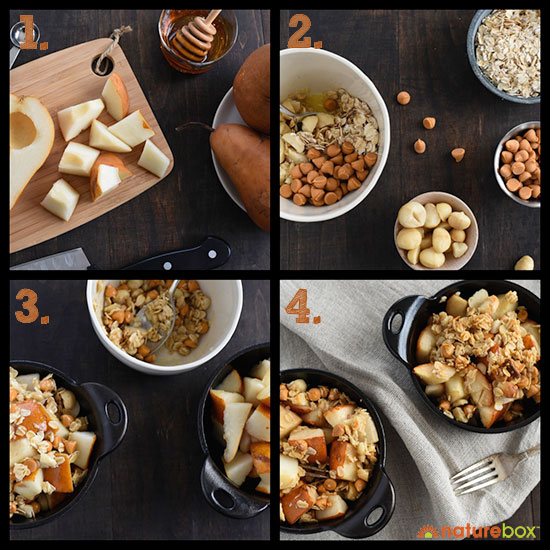 Directions:
1. Preheat oven to 350 degrees F. Lightly spray 2 individual (1-1/2 to 2 cup) baking dishes with cooking spray. In medium bowl, toss pears and honey until well combined. Divide pear mixture between baking dishes.
2. In small bowl, stir together oats, butterscotch chips, nuts and butter.
3. Divide oat mixture over pear mixture in baking dishes. Transfer to oven and bake 25 minutes or until pears are tender and topping is golden brown.
In a time crunch? Try our other 3-step recipes!
Get more healthy ideas and delicious snacks by joining NatureBox. Sign up today to kick off your membership with a free trial!