Roasted chicken is done in a snap with this quick and easy recipe. Bone-in chicken thighs make for a juicy dish and the Greek salsa adds some veggie-freshness. Serve with your favorite drink and enjoy!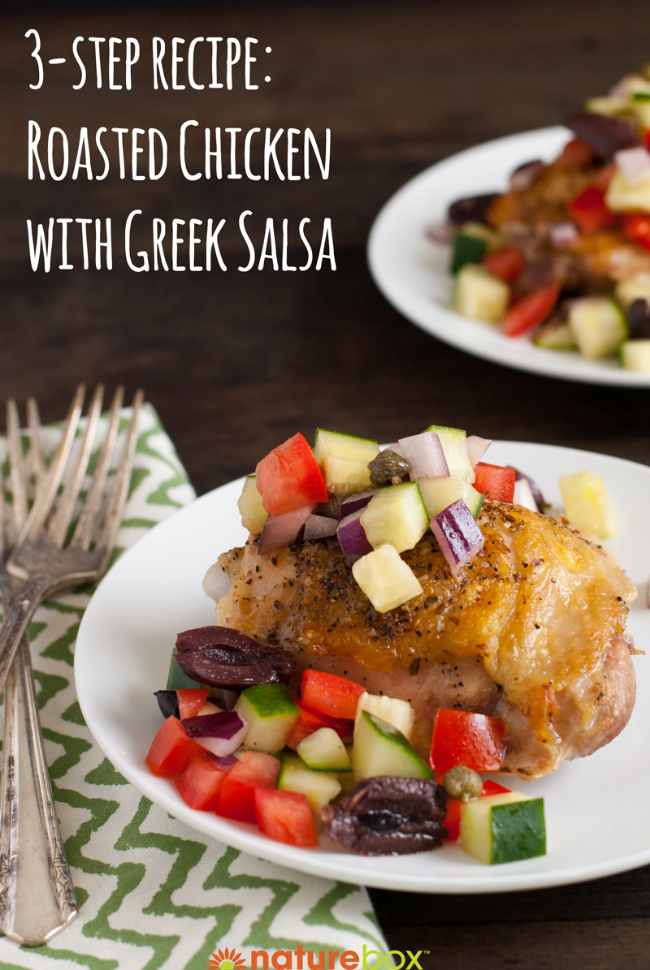 Serves: 2
Prep Time: 15 minutes
Bake Time: 16 minutes
Ingredients:
4 bone-in chicken thighs
1/2 teaspoon dried oregano
1/2 teaspoon kosher salt
1/4 teaspoon ground black pepper
Vegetable oil
1 Roma tomato, seeded and chopped
1/2 cucumber, chopped
1/4 cup chopped red onion
2 tablespoons pitted and halved kalamata olives
1 tablespoon capers
1 tablespoon extra virgin olive oil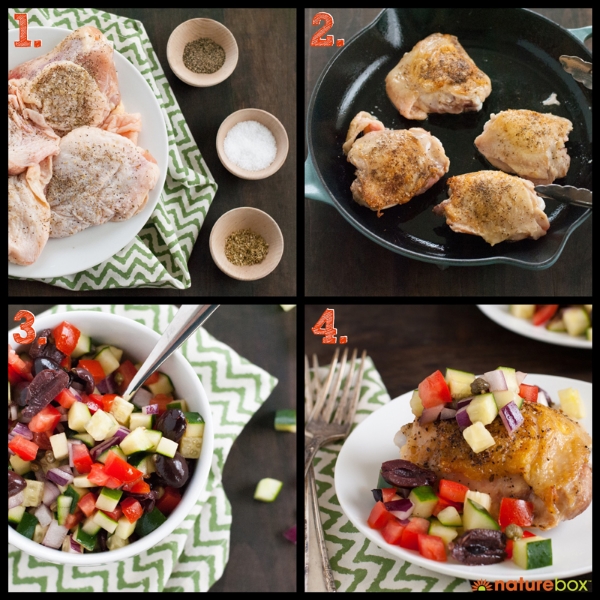 Directions:
1. Preheat oven to 375 degrees F. Pat chicken dry with paper towel; sprinkle with oregano, salt and pepper.
2. Heat large cast iron or other heavy oven-proof skillet over medium-high heat. Add enough vegetable oil to thinly coat bottom of skillet. Add chicken skin side down; cook 4 to 6 minutes or until golden brown. Turn chicken; transfer skillet to oven. Cook 14 to 16 minutes or until chicken reaches internal temperature of 165 degrees F.
3. Meanwhile, make Greek Salsa: In medium bowl, toss tomato, cucumber, onion, olives, capers and olive oil until well combined. Serve chicken with Greek salsa.
In a time crunch? Try our other 3-step recipes!
Get more healthy ideas and delicious snacks by joining NatureBox. Sign up today to kick off your membership with a free trial!