Nothing beats a warm, home-cooked meal – especially when it's cold out! This recipe is perfect to serve up on a winter day and a great dish for a potluck this holiday season.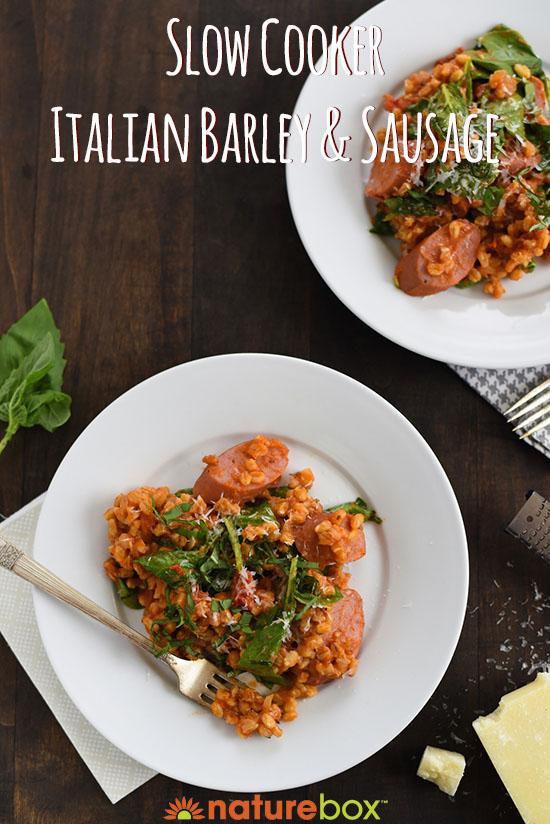 Serves: 6
Prep Time: 15 minutes
Slow Cook Time: 2-1/2 hours
Ingredients:
2 garlic cloves, minced
1 jar (14 ounces) organic marinara sauce
1/2 small onion, finely chopped (about 1/2 cup)
3 cups chicken stock, divided
1-1/4 cups pearl barley, rinsed and drained
2 tablespoons thinly sliced sundried tomatoes
1 tablespoon olive oil
1/4 teaspoon kosher salt
1/4 teaspoon ground black pepper
1 package (13 ounces) fully cooked smoked turkey sausage, thinly sliced
2 cups packed baby spinach
Chopped fresh basil and grated Parmesan cheese, for garnish (optional)
Directions:
1. In bowl of slow cooker, stir together garlic, marinara sauce, onion, 2 cups chicken stock, barley, sundried tomatoes, oil, salt and pepper. Cover and cook on low 2 to 2-1/2 hours or until barley is tender and most liquid is absorbed.
2. Stir in sausage, spinach and remaining 1 cup stock; cover and cook on low 10 minutes longer or until sausage is warmed through and spinach is wilted.
3. Serve barley and sausage mixture garnished with basil and cheese, if desired.
Get more healthy ideas and delicious snacks by joining NatureBox.