Fresh pineapple adds a fun and tasty spin on this dessert-inspired oatmeal. Top it off with walnuts and toasted coconut shavings for the finishing touch. The best part? Just toss the ingredients in your slow cooker before you head to bed and it'll be ready to serve in the morning!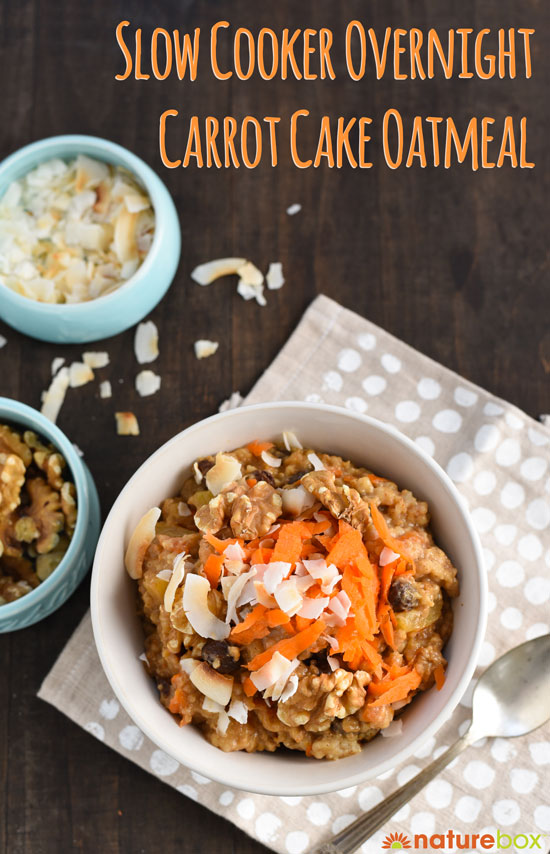 Serves: 4
Prep Time: 15 minutes
Ingredients:
4 cups water
1 cup steel cut oats
1 cup shredded carrots
3/4 cup chopped pineapple
1/2 cup half and half
1/2 cup raisins
1/3 cup light brown sugar
2 teaspoons vanilla extract
1 teaspoon ground cinnamon
1/2 cup walnuts
1/4 cup toasted coconut flakes
Honey, maple syrup, or additional brown sugar, for serving (optional)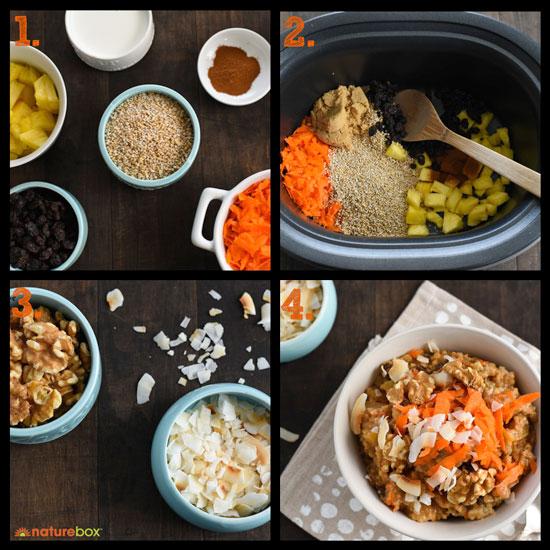 Directions:
1. In bowl of slow cooker, stir together water, oats, carrots, pineapple, half and half, raisins, sugar, vanilla and cinnamon. Cover and cook on low 8 hours (overnight).
2. Stir well and divide between serving bowls. Garnish each bowl with 2 tablespoons walnuts and 1 tablespoon coconut flakes. If a sweeter oatmeal is desired, drizzle with honey or maple syrup, or sprinkle with additional brown sugar.
Get more healthy ideas and delicious snacks by joining NatureBox. 
Lori Yates is a Detroit-area food writer and recipe developer. She is the author of Foxes Love Lemons, where she posts special yet simple original recipes, tips from her culinary school adventures and restaurant reviews. Her mission is to encourage people to enjoy the act of cooking at home. You can follow her on Facebook and Twitter @foxeslovelemons.