First things first, what is a cookie swap? It's basically a potluck, but everyone's bringing one thing (and the only thing that matters) – COOKIES!
Before you get too excited about all the cookies to be inhaled, a cookie swap doesn't mean you'll be munching away at the party. Here's how it works: everyone brings a batch of their favorite cookies, sample a few, and trade away. Then, you bring the rest home to share the sweetness with your friends and family. Ah, 'tis the season of giving and sharing.
Now go and gather your friends together for a cookie swap party so you won't be left cookie-less for the holidays. We've got 5 easy steps to throw a hassle-free and seamless cookie swap. Let the swapping begin!
Set the date, time, and any ground rules for your guests. The more advance notice you give, the better. Typically, cookie swaps require homemade cookies but that doesn't mean you have to. We've got plenty of baked treats for you choose from – perfect for the non-baker or when you're pressed for time. No oven required (and we won't even take the credit).
Send out your invitations. Nothing's official until an e-vite has been sent out! You can include the ground rules and any other notable information in your invitations i.e., bringing the cookies on a platter to make it easier to swap, bringing their own tupperware to take the cookies home in, printing recipe cards for each guest to take.
Set up for the big day. You'll need tables large enough to hold all the cookies and display cards for each batch. Make sure you have some plates handy for sampling. Set up a small table of hors d'oeuvres for guests when they want to take a break from all the swappage. Better yet, have a Snack & Sip station with some festive drinks like eggnog or our favorite cocktail, Pomegranate Punch.
Play some tunes. Get the party started with some music to welcome your guests. Just because this is all about the cookies doesn't mean you can't still treat it like an awesome party! Your guests will thank you for the best cookie swap ever.
Time to swap! Once everyone has filled out their display cards and the cookies are ready to be swapped, make sure each batch has a sample for each guest to try. Let each person walk around the table to pick up their share. Or, you can always make it a free for all – just be cautious of those cookie monsters.
#HolidayHack
Need some inspiration? Here's a recipe for No Bake Chocolate-Cherry Energy Bites to get you started.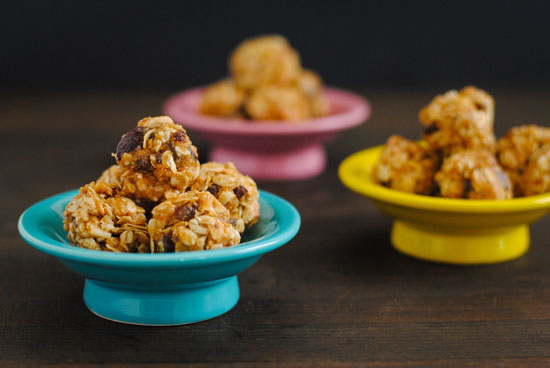 What will you be bringing to your next cookie swap? Tell us in the comments below!
Sign up for NatureBox today and get snacks delivered straight to your door. With over 100 thoughtfully sourced snacks to choose from, you've got plenty of options for all your holiday needs.