by Amanda Natividad, NatureBox Editor
What are your plans for the weekend? Since we're well into spring, we've got picnics on the brain! Toss your favorite NatureBox snacks, some sandwiches and salads into a basket and head to your favorite scenic spot! Bonus points if you're able to make a trip to the beach. In the meantime, check out these tips for an easy, worry-free picnic.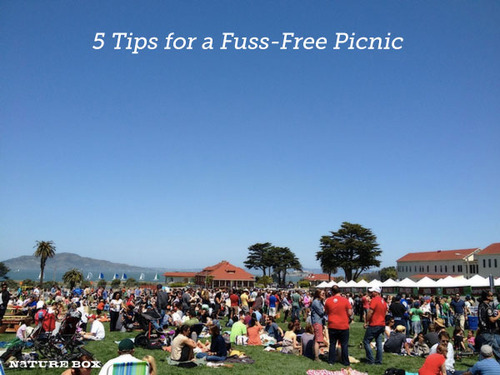 1. Use real dinnerware. Not only will this make for a prettier, more elegant feel, but you'll also reduce trash. Plus, eating from more solid plates and bowls is easier than paper ones that will blow away in the afternoon breeze.
2. Try to avoid foods that need to be served ice cold. Bring foods that don't need to be refrigerated or frozen until serving — buying a spur-of-the-moment treat from the ice cream truck is more fun, anyway! But if certain foods taste better at a cooler temperature, line your ice chest or picnic basket with frozen cold packs rather than ice. It will stay frozen (and colder) longer!
3. Pack other worry-free foods. This includes foods that won't get soggy and foods that don't need to be cut to serve. You can work around this by not adding sauces or condiments to sandwiches until they are served, or slicing fruits and vegetables ahead of time at home!
4. Do all the prep work at home. Assembling finished dishes will be quick and easy! If you're serving sandwiches, make sure you have the meats or protein already sliced, and the lettuce already rinsed and sliced or shredded. If you're serving a fresh fruits or veggies, make sure you've rinsed and dried them at home so they're ready to eat immediately.
5. Pack an "picnic utility" or emergency kit. What are some of the things you'd like to have handy when you're spending the day outside? Consider adding sunscreen, insect repellent, hand wipes, band aids, towels and extra bottled water to a separate bag or basket. It's also a good idea to make sure you have a few dollar bills on hand in case you need to make an unexpected trip to a nearby convenience store.
Need some picnic recipe ideas? Check out our delicious sandwich and salad recipes!
Get more healthy ideas and delicious snacks by joining NatureBox. Enter coupon code NATURE for 25% off your first month subscription!
Amanda really wants to help you cook delicious foods and sustain a healthier lifestyle. When she's not goofing around on Twitter she's probably noshing on the pile of NatureBox snacks at her desk.