You know that healthy friend of yours? The one who's always talking about how easy it is to eat better and live better and you don't believe them? Yeah, we get it. But seriously, making those smarter eating choices actually can be easy. Or at least, not so difficult.
Below are 6 tips to help you get started.
1. Substitute ground pistachios in place of breadcrumbs.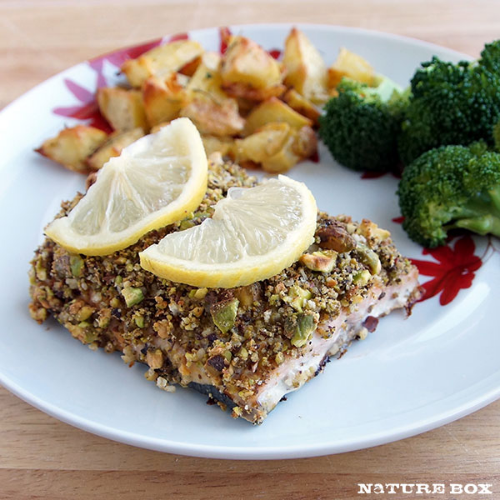 This Peppery Pistachio-Crusted Salmon uses NatureBox Peppery Pistachios .
Pulse those shelled pistachios in your food processor until finely chopped. They'll add some serious protein-rich crunch as a crust to salmon, crust to chicken, and to help make turkey meatballs more substantial.
2. Try mashed berries for an easy, natural take on jelly.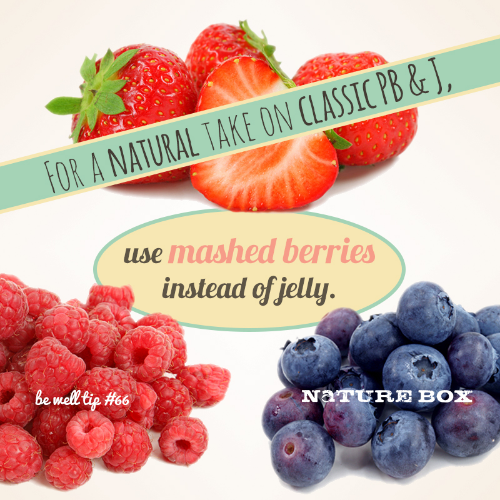 Be Well tip #66 by NourishRDs .
To make enough jelly for one PB&J sandwich, pulse about 1 cup berries in a food processor until smooth, about 2 minutes. You'll probably want to add a teaspoon of honey or agave since the berries' seeds might amp up the tart flavor.
3. Sprinkle your favorite shelled seeds over salad.
We love using NatureBox Honeycomb Sunflower Kernels in our mixed baby green salads!
Not only does this add more texture but it also boosts the amount of protein and fiber you're getting in this leafy green meal. As a result, you'll feel fuller for longer. (Check out our snack catalog to see our variety of seeds and nuts!)
4. Try making your own nut butters. 
Smoothly blended NatureBox Chipotle Maple Almonds , cocoa powder and a touch of sugar make this easy recipe!
Blend your favorite nuts – like almonds or cashews – in a food processor until smooth, usually about 5 minutes. If desired, slightly thin out the consistency with coconut oil or extra virgin olive oil. Use the resulting butter as a spread for toast or combine them with other ingredients to make no-bake energy bites. (If you like chocolate and fun try this Aztec Chocolate Almond Butter.)
5. Speaking of energy bites, they're so easy to make!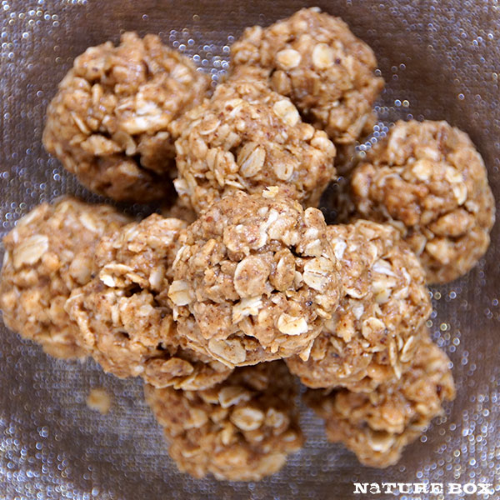 NatureBox Vanilla Macaroon Granola is used in these no-bake energy bites.
A good rule of thumb is the 1:2:2 ratio: Your favorite nut butter and twice that amount but equal parts granola and rolled oats. (We like 1/2 cup nut butter, 1 cup granola and 1 cup rolled oats.) You can finish it off with a tablespoon of honey or agave, or roll the bites in 1/4 cup coconut flakes! Some of our go-to recipes are Vanilla Macaroon Bites and Coconut-Cashew-Bites.
6. Liven up your favorite snacks with homemade sauces and dipping oils.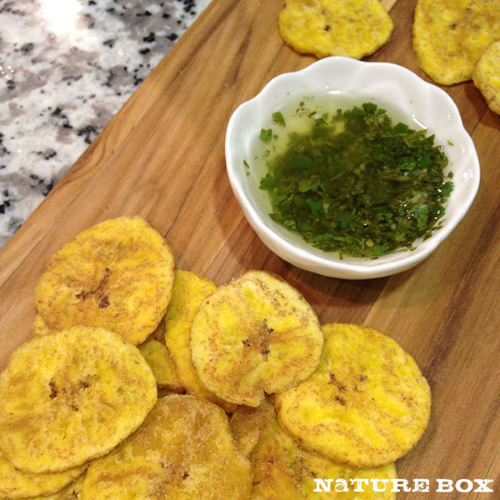 Try this Cilantro Garlic Dipping Oil to go with NatureBox South Pacific Plantains !
Homemade is always better! We love dipping our Masa Crisps into Sriracha Guacamole and Lightened-up Jalapeño Popper Dip, and dipping our South Pacific Plantains into Cilantro Garlic Dipping Oil.
Inspired? Check out more healthy and delicious recipe ideas!
Rev up your smarter eating routine by joining NatureBox, where you can get Peppery Pistachios, South Pacific Plantains and more.