Make Your Next BBQ a Little More Eco-Friendly
by NatureBox Health Writer Jenilee Matz, MPH
Are you looking to give your next grill out a healthy makeover? Maybe you'll replace white buns with wheat ones, choose black bean burgers in place of ground beef patties, and sub out mayo-laden side salads for grilled fruits and veggies.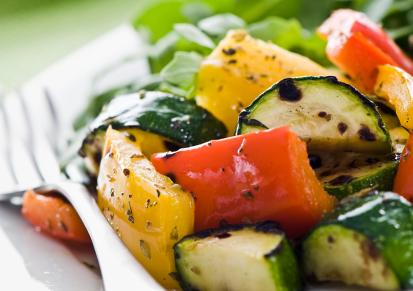 That's a great place to start! Your body will thank you for making such nutritious choices. However, your barbeque can also have an impact on the environment's health. To make your next cookout more environmentally friendly, don't use disposable plates and utensils and give your grilling techniques a once over.

Grilling causes air pollution and contributes to your carbon footprint. Luckily, there are ways to green your grilling:
Go for a gas grill. Gas or propane-powered grills are better for the environment than charcoal grills. These grills use less energy and produce fewer pollutants, and you won't have to dispose of any ashes after the grill cools off. Another perk of gas grills? They heat up more quickly than charcoal ones.
Choose a better charcoal. However, charcoal grills are much more affordable than their gas counterparts. If you have a charcoal grill, there's no need to replace it. Instead, trade self-starting charcoal for a more environmentally friendly alternative. Additive-free or all-natural lump charcoal doesn't release toxic additives into the air like traditional charcoal does.
Forget about lighter fluid. Lighter fluid sends harmful petrochemicals into the atmosphere. If you have a charcoal grill, light it up by using a non-toxic chimney starter.
Turn on the natural gas. Many gas grills have a natural gas option. Choose natural gas because it is the cleanest fossil fuel.
Don't preheat for too long. Gas grills are ready within 5 to 10 minutes, and charcoal grills take about 15 to 20 minutes to heat up. Plan your cooking time accordingly. Leaving your grill burning longer than needed causes unnecessary pollution.
Clean your grill often. Fallen pieces of food and specks of grease in your grill will create excess smoke the next time you cook. Thoroughly clean your grill after each use.
Try to resist the urge to char your grilled meats. Grilling meat and fish causes carcinogens (cancer-causing agents) to form. To lower your cancer risk, cook food well but don't burn it and place a piece of aluminum foil between the grill and meat.
Tell us – How do you plan to make your next cookout healthier?         
Jenilee Matz, MPH is a medical writer, health educator, and runner based in Charlotte, NC
Get more healthy ideas and delicious snacks by joining NatureBox. Enter coupon code NATURE for 25% off your first month subscription!