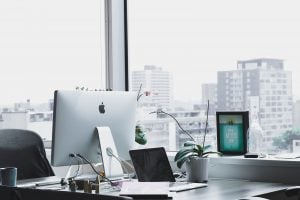 There has been plenty of back and forth when it comes to plans to return to the office after COVID. With the rise in variants, many companies have decided to delay reopening until 2022, while others are leaving the return date for employees ambiguous. 
This can cause a lot of stress and anxiety for you and your team. 
If you are struggling to define a timeline or definitive plan for what returning to the office looks like, here's a checklist for a return-to-office plan to make the transition as simple and smooth as possible.
Return-to-office checklist for office managers
Communicate early and often

Focus on your employees' needs first

Prioritize workplace safety

Stock up on functional snacks

Be thoughtful about team-building

Ease employee concerns to prevent burnout

Don't forget about your remote workers
Let's expand on these a bit more.
1. Communication is key
41% of people currently working remotely say they'd need more than a week to prepare for a return to the office; among parents, 52% would need more than one week, and 35% would need more than two weeks, according to LinkedIn.
Change can bring a lot of unknowns along with it, but clear communication with your employees about guidelines, expectations, safety measures, and timelines can ease concerns about reopenings.
Plus, your employees may have kids or additional responsibilities beyond themselves that prevent a quick transition back to the office. Make sure you take all this into account and notify your team well in advance of when you need them back. Having a clear plan prevents frustration or resentment from building.
2. Check in with your team
There's plenty of talk about how the majority of workers are not interested in returning to the office. Rather than write them off, this is the perfect opportunity for you to get curious.
What can you provide that will make the transition from remote to in-office more comfortable for your team? How can you recreate the perks of working from home in the office? What will your employees need to feel comfortable and safe returning to work?
Routines your employees established while working from home will shift, so make sure you are accommodating and understanding during this transition.
3. Make the workplace safe
Leave no stone unturned when it comes to implementing safety measures or health guidelines for returning to the office.
Are your employees required to wear a mask if they're unvaccinated? Will interactions and meetings be socially distanced? Are you posting signage to encourage healthy habits like handwashing? Who is in charge of keeping up-to-date with CDC and WHO guidelines? Will you change or make updates to the office space to prioritize your employees' health and safety? 
These are questions you have to ask yourself before you bring your team back into the office.
4. Stock up on sustainable snacks
While it may seem small, offering satisfying – not sugary – snacks can have a massive effect on morale and your employees' overall experience at the office.
Offering your team functional foods to snack on can help them focus better and be more productive, it also shows you care about their well-being beyond their work output. Not quite sure what to stock up on to fuel your team? We have some delicious suggestions for you!
For those with a fully vaccinated workforce, you may even consider bringing back bulk snacks to replace the individually-wrapped food items you previously bought to keep your team healthy and well. However, conduct a pulse-check with your team and adhere to CDC and WHO guidelines before you implement.
5. Tackle team-building thoughtfully
It may take some time before your employees feel perfectly safe participating in group activities. Plus, they'll be switching from exclusively digital communications to in-person interactions throughout the day. Be understanding of this.
Choose team-building activities that both remote and in-office workers can participate in like online trivia or customer role-play scenarios.
6. Ban burnout before it begins
The challenge for many businesses right now is to address the current trend of employee burnout and frustration while resetting their business practices for the long-run. The best managers are "really embracing this as an opportunity for reflection, to experiment and to really redesign work."
This can include setting realistic expectations for your employees, making adjustments to their workloads to account for the "Wellbeing-Engagement Paradox", or providing support by bringing back in-person wellness programs that were put on the backburner while everyone was working remotely.
7. Stay connected to your remote employees
While many companies are preparing to bring their remote workers back to the office, you may still have a few employees still working from home.
If that's the case, you need to include those team members in your return-to-office plan! That can include:
Scheduling face-to-face check-ins

Including your remote employees in all meetings

Giving team members a way to engage with each other on and off-site

Prioritizing relationships

Surprising and delighting them

Being available to connect

Making expectations clear
When the time comes to bring your remote employees back to the office, make sure you listen to their needs, address any concerns, and prioritize their safety. The future of work may be uncertain, but it's your job to ensure the transition itself doesn't lead to even more uncertainty. Have a solid plan for reopening, stick to it, and good luck!