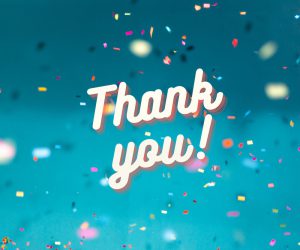 Employee recognition is a small gesture with the potential to have a massive impact on your team.
It motivates, provides a sense of accomplishment, and makes employees feel valued for their work. If you want to boost employee engagement, productivity, and loyalty, recognition is the key. It's a wonder why there's only one day each year set aside for it!
Employee Appreciation Day falls on the first Friday in March, but you don't need to reserve all your love for your employees for a single day. Just make sure how you choose to honor your team aligns with your company's mission and values. 
Show your remote team you care year-round with seven of our most intentional ideas for Employee Appreciation Day and beyond.
1. Host a virtual game night
Skip the happy hour and opt for some healthy competition instead.
Find an interactive game that allows your employees to collaborate as a team to win each round or discuss the results with each other after everyone's answered. The more intense the stakes, the better.
Need some suggestions? Jackbox Games makes employee game night "weird, fun, and memorable" while this round-up of the best virtual games offers plenty of laugh-inducing options for remote teams. Game on!
*For tips on how to host a successful virtual event of any size, here's a handy guide.
2. Give them the gift of choice
2020 left employees feeling like things were out of their control. Empower them to take back control of what matters most – their health and wellness – with NatureBox Snack Pass™.
Replace your teams' tired bags of chips with a high-quality treat to elevate their snacking. Your employees can choose from over 60 functional foods with healthy ingredients that taste as good as they make you feel.
Gift cards are so 2020. Delight your employees with a personalized snack experience that allows them to choose from a variety of sweet or savory, vegan or gluten-free snacks to satisfy every taste and diet.
3. Take "Employee of the Month" to the next level
The idea of office superlatives isn't new, but there's a reason it boosts morale: Everyone loves to be celebrated!
Throw a special awards ceremony to honor each employee and their unique contribution to your company. It's important to acknowledge the individual apart from their work. After all, a great employee is well-rounded.
Celebrate a contribution they made to the culture, their work anniversary, the enthusiasm they bring to a new project, the end of a significant contract, or anything that shows your employees you value them for the person they are, not only the work they do.
4. Give them a break
A longer, more focused break, that is.
When you don't give your team a chance to relax or time to decompress, it's harder for them to be productive and efficient. In fact, breaks are so important to the health and well-being of employees that there are laws mandating breaks from work.
Show your team you appreciate their hard work and dedication by blocking out time out for them to take a long lunch or get some movement in to refuel and destress.  
Do this every day – not only on Employee Appreciation Day – to reap the rewards that come from happier, more refreshed employees.
5. Deliver a curated employee care package
During a NatureBox webinar about how to keep work-from-home teams engaged, John Ruhlin from Giftology spoke about using thoughtful, personalized gifts as a way to show your employees you care. "I think there are opportunities to surprise and delight your teams at scale… but the details have to be dialed in," he said. 
One way to do this? Deliver a delicious snack box to your employee's doorstep filled with their favorite treats. The extra care it took to personalize the box will make each member of your team feel special and appreciated.
If you want to go with a nonperishable package, consider your employee's favorite color, hobbies, or personal interests and gather up items to put into a curated care package especially for them.
6. Encourage employees to take a half-day for hobbies
Is personal fulfillment a core value for many of your employees? Acknowledge this by encouraging them to take a half-day to enjoy a hobby they don't make enough time for on their own. 
This support for the individual as a whole person, not only as an employee, is crucial for making your team feel valued.
7. Send a hand-written note
Public recognition is excellent, but there's something extra special about private praise. When it comes from you, the manager? Even better.
Emails and video calls don't replace the feeling of a hand-written note. The time and effort it goes into buying, writing, and sending one is sure to brighten the day of whoever receives it.
Employee Appreciation Day should honor your team as individuals, not only as employees. Each person brings something uniquely valuable to the company and the culture. What better way to recognize your team's effort than with these great employee appreciation day ideas designed to show your employee you appreciate them, no matter what day it is.