Think outside the box by using broccolini – or baby broccoli – as a base to your summer salad. With heart-healthy almonds, bright Zingy Currants and a pinch of salty Parmesan cheese, you'll be craving the subtle sophistication of this dish every day!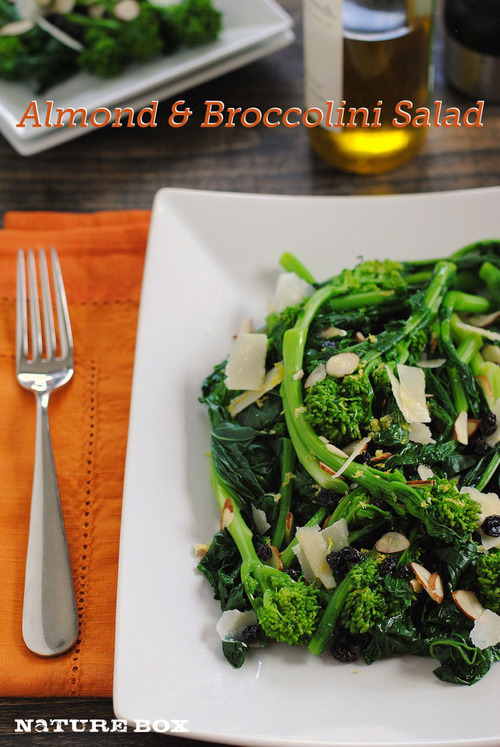 Serves: 6
Prep Time: 10 minutes
Cook Time: 8 minutes
Ingredients:
2 bunches broccolini, ends trimmed
2 tablespoons fresh lemon juice
1-1/2 tablespoons extra virgin olive oil
1/4 cup NatureBox Zingy Currants
2 tablespoons shaved Parmesan cheese
2 tablespoons sliced almonds
1 teaspoon grated lemon zest
Directions:
1. Bring a large pot of salted water to a boil. Prepare an ice water bath – fill a large bowl with ice and water. Blanch about 1/4 of broccolini in boiling water until stems are tender-crisp, about 2 to 3 minutes, depending on thickness of stems. Using tongs, transfer broccolini to ice water bath. Repeat with remaining broccolini. Drain broccolini well.
2. Transfer broccolini to serving platter. Drizzle with lemon juice and oil. Sprinkle with Zingy Currants, Parmesan cheese, almonds and lemon zest.
Still hungry? Try these other summer salads!
Get more healthy ideas and delicious snacks by joining NatureBox. Enter coupon code NATURE for 25% off your first month subscription!
Lori is a Detroit-area food writer, recipe developer and restaurant reviewer. She's usually found in the kitchen cooking up something that undoubtedly involves beets, lemons or coconut for her blog, Foxes Love Lemons. Check out more of her recipes here.