A New Twist on a Game Day Classic
We know what you might be thinking: apple nachos? As in, apples and cheese and salsa? No- not those kind of nachos! In honor of "National Peanut Butter Day", we figured that this was the perfect recipe to kick off our "Healthy Super Bowl Eats" series that will run here on the NatureBox blog over the next two weeks.

These "Apple Nachos" may look a bit different from your traditional football-watching nachos but they will soon become an everyday snack favorite. Kids will be curious to see an old favorite made with new ingredients and you can feel good knowing that these "nachos" are delicious, filling, and nutritious!
This recipe comes to us from Allyson over at ManifestVegan. "Apple Nachos" are easily made from thinly sliced crunchy apples, layered with healthy fats (sub in a peanut-free nut butter if you have allergies), plus some dark chocolate chips to satisfy your sweet tooth throughout the game. You can feel free to customize your nachos with whatever toppings you like best or have on hand – such as dried fruits and sunflower seeds to name a few. Head on over to Allyson's blog to see her full recipe here and for more tasty and nutritious foods!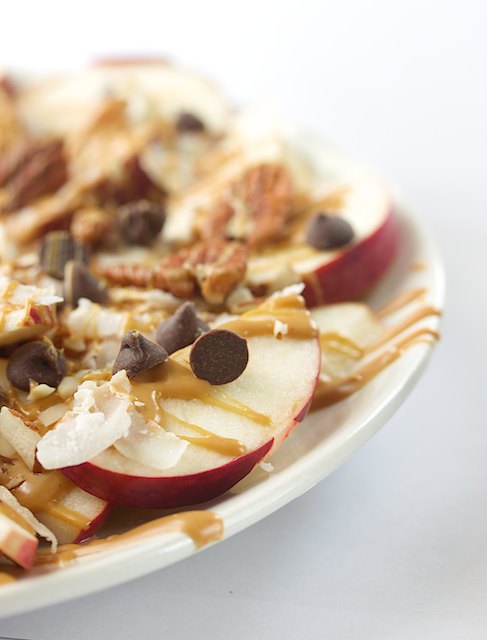 Photographs in this post were taken and re-posted with permission from Allyson.
Allyson Kramer is the founder, food photographer, recipe developer and food stylist behind the popular recipe blog manifestvegan.com. Allyson has become an authority on vegan and gluten-free recipe development and is known for her colorful food photography and simple food styling.
Get more healthy ideas and delicious snacks by joining NatureBox. Enter coupon code NATURE for 25% off your first month subscription!