from the NatureBox Kitchen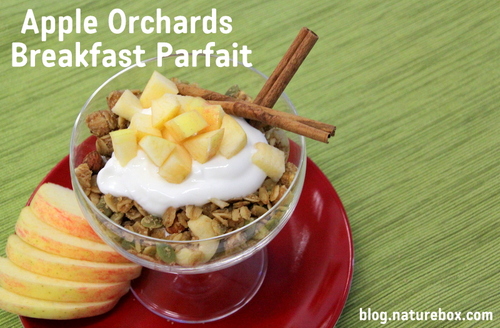 We almost feel silly calling this a "recipe" as it couldn't be easier to make! This Breakfast Parfait was created with our Apple Orchards Granola in mind but it's perfect for breakfast, dessert or even snack time!
Ingredients:
1 apple, diced
1/4 cup NatureBox Apple Orchards Granola
3/4 cup Plain or Vanilla Greek Yogurt
Directions:
In a small bowl, layer 1/2 of the diced apple, followed by 1/2 cup of Greek yogurt, then 1/4 cup of NatureBox Apple Orchards Granola and top with the remaining Greek yogurt & diced apple. Sprinkle with cinnamon and dig in!
Note: If you prefer a sweeter yogurt, try vanilla flavored.
Tip: This is a great kid-friendly recipe as kids can assemble and layer the ingredients.
Get more healthy ideas and delicious snacks by joining NatureBox. Enter coupon code NATURE for 25% off your first month subscription!