Crostini – which is Italian for "little toasts" – are an appetizer made of sliced baguette and a topping. This recipe uses Sun-Dried California Apricots with a dollop of ricotta for a creamy complement. Serve this at your next dinner party or whip it up for a quick but decadent snack!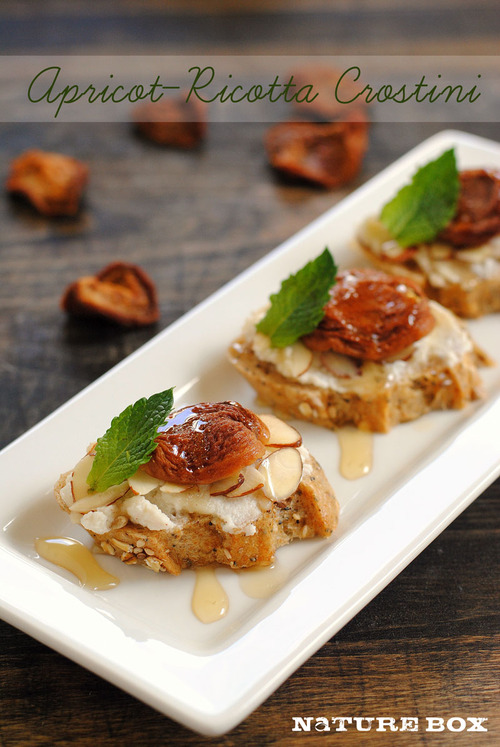 Makes: about 12 crostini
Prep time: 15 minutes
Ingredients:
1/2 whole grain baguette, sliced diagonally 1/4-inch-thick (about 12 pieces)
Olive oil cooking spray
1/2 cup low fat ricotta
1/8 teaspoon cinnamon
2 tablespoons sliced almonds
2 tablespoons honey
12 small fresh mint leaves
Directions:
1. Preheat oven to 350 degrees F. Spray baguette slices with cooking spray. Bake 8 to 10 minutes or until crisp, turning once.
2. Meanwhile, place apricots in small bowl; cover with very warm tap water. Let stand 10 minutes. In separate small bowl, stir together ricotta and cinnamon.
3. Spread ricotta mixture on crostini. Sprinkle crostini with almonds. Remove apricots from soaking liquid and drain on paper towel. Place 1 apricot on each crostini. Drizzle crostini with honey and garnish with mint leaves. Serve immediately.
Still hungry? Try these other healthy party foods!
Get more healthy ideas and delicious snacks by joining NatureBox. Enter coupon code NATURE for 25% off your first month subscription!
Lori is a Detroit-area food writer, recipe developer and restaurant reviewer. She's usually found in the kitchen cooking up something that undoubtedly involves beets, lemons or coconut for her blog, Foxes Love Lemons. Check out more of her recipes here.