Try this new twist on Asian Chicken Salad by adding quinoa and using emptied orange halves as cups. These salad cups can be served as appetizers or side dishes for your next barbecue!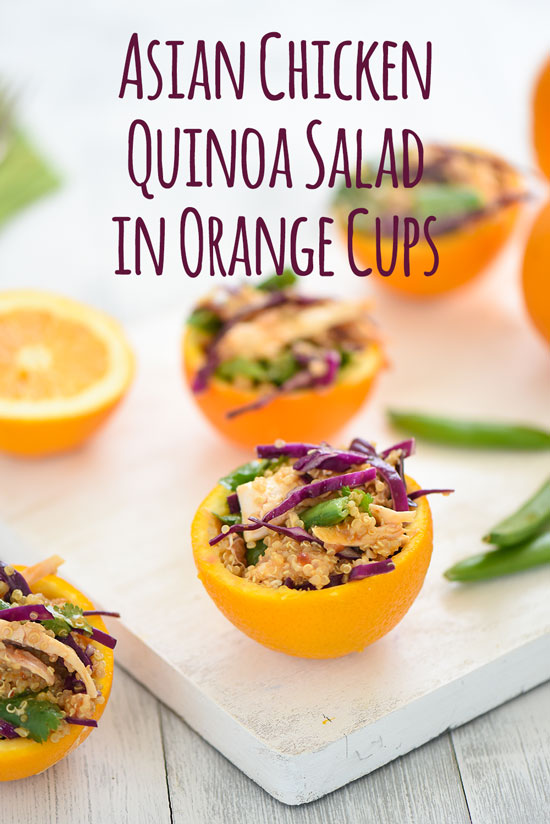 Serves: 6 (2 orange cups per serving)
Prep Time: 25 minutes
Cook Time: 20 minutes
Ingredients:
1/2 cup quinoa
6 Valencia oranges
2 tablespoons peanut butter
4 teaspoons sambal oelek
4 teaspoon soy sauce
1/4 cup extra virgin olive oil
1-1/2 cups pulled cooked chicken
1 cup sugar snap peas, cut crosswise into 1-inch pieces
1 cup thinly sliced red cabbage
1/3 cup fresh cilantro leaves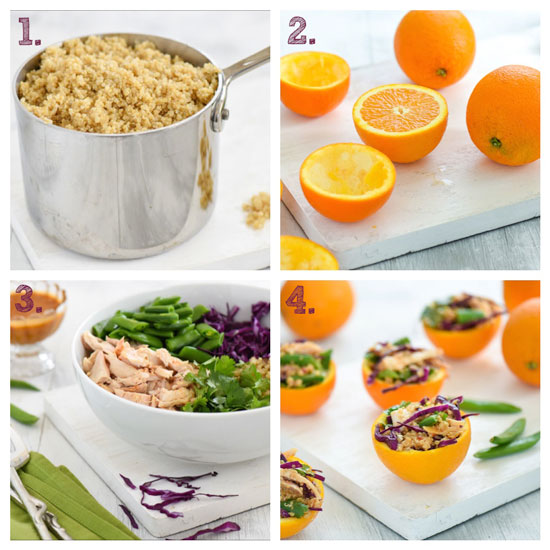 Directions:
1. Prepare quinoa on stovetop according to package directions.
2. Halve oranges crosswise. Carefully run paring knife between skin and flesh of each orange half. Holding orange halves over small bowl, scrape out flesh with fork. Transfer 4 teaspoons orange juice collected in bowl to separate large bowl. Reserve remaining orange juice and flesh for juicing; use for another purpose or serve juice with your meal.
3. Add peanut butter, sambal oelek and soy sauce to orange juice in large bowl; whisk until well combined. While whisking, slowly drizzle in oil until all oil is incorporated.
4. Add chicken, snap peas, cabbage, cilantro and prepared quinoa to bowl with dressing; toss until well combined. Scoop salad mixture in orange cups and serve immediately.
Get more healthy ideas and delicious snacks by joining NatureBox. 
Lori Yates is a Detroit-area food writer and recipe developer. She is the author of Foxes Love Lemons, where she posts special yet simple original recipes, tips from her culinary school adventures and restaurant reviews. Her mission is to encourage people to enjoy the act of cooking at home. You can follow her on Facebook and Twitter @foxeslovelemons.