Packing your lunch for work doesn't have to mean boring leftovers piled into tupperware. Try this Asian Noodle Salad with Spicy Peanut Dressing layered beautifully into a mason jar!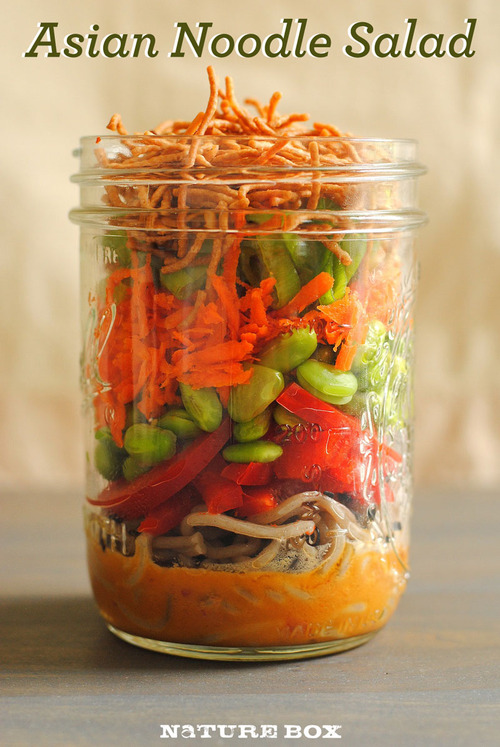 Makes: 4 jars
Prep time: 25 minutes
Ingredients:
For the Spicy Peanut Dressing:
2 tablespoons peanut butter
4 teaspoons sambal oelek
4 teaspoons rice vinegar
4 teaspoons soy sauce
1/4 cup extra virgin olive oil
1 tablespoon black sesame seeds
For the salad:
4 ounces soba noodles
1 red bell pepper, thinly sliced
1 cup shelled edamame beans, cooked
2 large carrots, peeled and shredded
4 green onions, thinly sliced
1/2 cup crunchy rice noodles
Directions:
1. In large pot of boiling water, cook noodles according to package instructions. Rinse under cold water and drain.
2. Meanwhile, make Spicy Peanut Dressing: In a small bowl, whisk together peanut butter, sambal oelek, rice vinegar and soy sauce. While whisking, slowly drizzle in oil until all oil is incorporated. Stir in sesame seeds.
3. Divide Spicy Peanut Dressing equally among 4 pint-sized mason jars. Divide soba noodles over dressing. Layer remaining ingredients, ending with rice noodles. Top with lids and refrigerate up to 5 days. To serve, pour onto plate or bowl, stir and enjoy.
Still hungry? Check out our other sandwich recipes!
Get more healthy ideas and delicious snacks by joining NatureBox. Sign up today to get 50% off your first box!