Try a new twist on the classic sloppy joe. These Asian-style burgers have a fresh kick from ginger and spicy goodness from sriracha.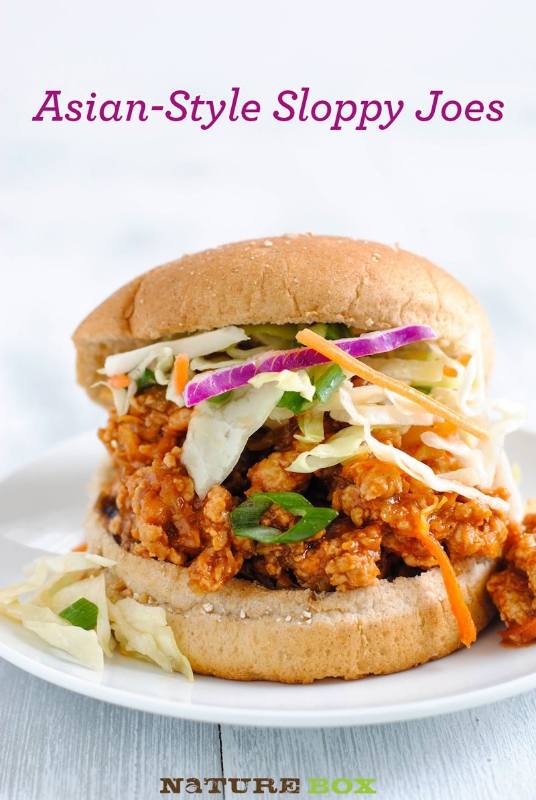 Serves: 6
Prep time: 20 minutes
Cook time: 15 minutes
Ingredients:
For the Coleslaw Topping:
1-1/2 tablespoons rice wine vinegar
1 tablespoon sesame oil
2 green onions, thinly sliced
2 cups packed shredded coleslaw veggie mix
For the Sloppy Joes:
1 tablespoon olive oil
1 pound ground chicken
1/2 green bell pepper, chopped
2 garlic cloves, minced
2 tablespoons tomato paste
1 tablespoon grated fresh ginger
2 cups packed shredded coleslaw veggie mix
3/4 cup water
1/4 cup hoisin sauce
2 tablespoons less-sodium soy sauce
1 tablesoon sriracha
6 whole wheat hamburger buns or tortillas
Directions:
1. Make Coleslaw Topping: In medium bowl, whisk together vinegar and oil. Add onions and shredded coleslaw veggie mix; toss to combine. Refrigerate until ready to use.
2. Make Sloppy Joes: In large skillet, heat oil over medium-high heat. Add chicken and bell pepper; cook 6 to 8 minutes or until chicken is cooked through, breaking up chicken with side of spoon as it cooks. Add garlic, tomato paste and ginger; cook 1 minute, stirring constantly.
3. Stir in shredded coleslaw veggie mix, water, hoisin sauce, soy sauce and sriracha; heat to boiling. Reduce heat to medium-low; simmer 4 to 5 minutes or until mixture is thickened, stirring occasionally.
4. Divide Sloppy Joe mixture between buns or tortillas; top with Coleslaw Topping.
Get more healthy ideas and delicious snacks by joining NatureBox.