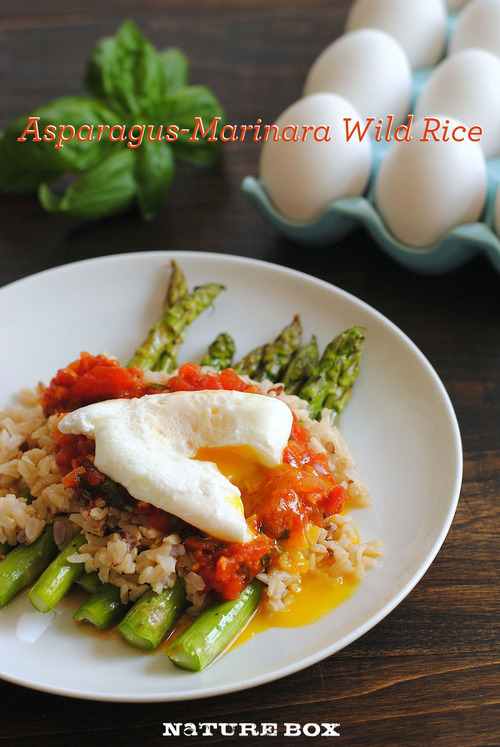 Serves: 4
Prep Time: 20 minutes
Cook Time: 45 minutes
Ingredients:
1 cup wild rice blend
2 tablespoons extra virgin olive oil, divided
2 garlic cloves, minced
1/4 cup minced onion
2 tablespoons tomato paste
1 large tomato, diced
1/2 cup vegetable broth, tomato juice or water
2 tablespoons chopped fresh basil
1 bunch fresh asparagus, ends trimmed
1/8 teaspoon kosher salt
1/8 teaspoon ground black pepper
2 tablespoons apple cider vinegar or distilled white vinegar
4 large eggs
Directions:
1. Prepare rice according to package instructions.
2. Meanwhile, heat 1 tablespoon oil in medium saucepan over medium heat. Add garlic and onion; cook 4 minutes or until tender, stirring frequently. Add tomato paste; cook 1 minute, stirring constantly. Add tomato and broth; simmer 6 to 8 minutes or until most liquid is evaporated. Remove from heat; stir in basil.
3. While sauce simmers, preheat oven to 400 degrees F. Toss asparagus with remaining 1 tablespoon oil, salt and pepper. Place on rimmed baking pan. Roast 8 minutes or until just tender.
4. Fill large, high-sided skillet with water. Heat to a slow boil (about 190 degrees F). Add vinegar to water. One at a time, crack eggs into small ramekin and use ramekin to slowly slide eggs into water. Cook 4 minutes or until whites are set and yolks are still soft. Using a slotted spoon, transfer eggs to paper towel-lined plate.
5. To serve, divide asparagus between 4 salad plates. Divide rice over asparagus. Top rice with tomato sauce, and place eggs on top. Serve immediately.
Get more healthy ideas and delicious snacks by joining NatureBox. Enter coupon code NATURE for 25% off your first month subscription!
Lori is a Detroit-area food writer, recipe developer and restaurant reviewer. She's usually found in the kitchen cooking up something that undoubtedly involves beets, lemons or coconut for her blog, Foxes Love Lemons. Check out more of her recipes here.