Looking for a fresh new take on bruschetta? Actually, are you looking for any excuse to snack on avocado? This bruschetta recipe brightens up the smooth texture of ripe avocado with the juicy tartness of grape tomatoes. Serve it with a spoonful of balsamic reduction to complete the midday treat or party snack!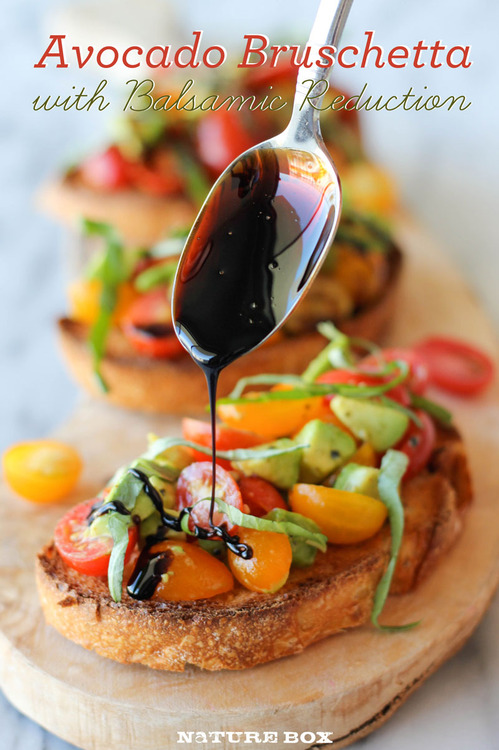 Serves: 4
Prep time: 10 minutes
Cook time: 15-20 minutes
Ingredients:
1/2 cup balsamic vinegar
1 tablespoon brown sugar
1 baguette, thinly sliced
1/4 cup olive oil, divided
2 cups grape tomatoes, halved
1 avocado, halved, seeded, peeled and diced
Kosher salt and freshly ground black pepper, to taste
1/4 cup basil leaves, chiffonade
Directions:
1. Preheat oven to 350 degrees F. Line a baking sheet with parchment paper.
2. Add balsamic vinegar and brown sugar to a small saucepan over medium heat. Bring to a slight boil and reduce by half, about 6-8 minutes.
3. Place baguette slices onto prepared baking sheet. Drizzle with 2 tablespoons olive oil. Place into oven and bake until golden brown, about 8-10 minutes.
4. In a large bowl, combine tomatoes, avocado, remaining 2 tablespoons olive oil, salt and pepper, to taste. Top each baguette slice with tomato mixture, garnished with basil. Drizzle with balsamic reduction and serve.
Still hungry? Try our other avocado recipes!
Get more healthy ideas and delicious snacks by joining NatureBox. Enter coupon code NATURE for 25% off your first month subscription!
Chung-Ah, the author behind Damn Delicious, loves to take simple ingredients and transform them into sophisticated and elegant meals.