Use some hard-boiled eggs in this super easy egg salad, lightened up with Greek yogurt and loaded with fresh avocado. The added pesto gives it a fun twist on the classic egg salad!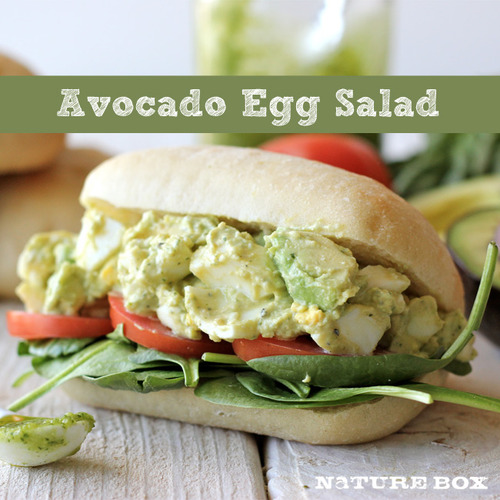 Serves: 4
Ingredients:
6 large eggs, hard-boiled and diced
1/4 cup Greek yogurt
3 tablespoons pesto
1 avocado, halved, seeded, peeled and diced
Kosher salt and freshly ground black pepper, to taste
4 ciabatta rolls, toasted, for serving
Baby spinach, for serving
Sliced tomatoes, for serving
Directions:
1. In a large bowl, roughly mash eggs with Greek yogurt, pesto, avocado, salt and pepper, to taste.
2. Serve sandwiches on ciabatta rolls with spinach, tomatoes and egg salad mixture.
Thirsty? Try some of our drink recipes!
Get more healthy ideas and delicious snacks by joining NatureBox. Sign up today to get 50% off your first box!