Recipe by Tsz Chan of Gastrophoria
Who says chocolate nut butter spreads can only be sweet? This Aztec Chocolate Almond Butter has that milky, chocolatey sweetness but because it uses NatureBox Chipotle Maple Almonds, it packs a spicy kick. Make a full recipe at home and keep it in the fridge for the rest of the week — but good luck with not gobbling it all up before then!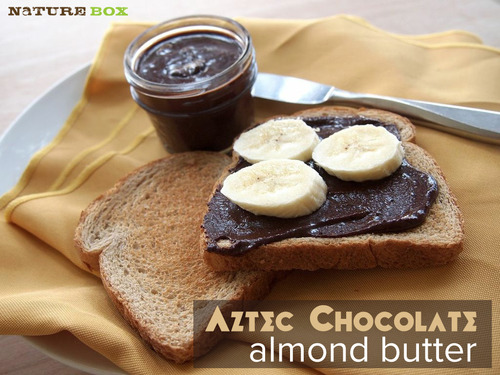 Yield: 1-1/2 cups
Preparation time: 8 minutes
Ingredients:
1 package NatureBox Chipotle Maple Almonds (about 1-1/4 cups)
1 pinch of salt
1/4 cup of cocoa powder
1/2 cup powdered sugar
1 generous pinch of cayenne pepper (optional)
2 to 3 tablespoons of olive oil
Directions:
1. Add almonds and salt to a food processor or blender and blend until the mixture resembles coarse sand. Scrape sides as needed with a spatula so the mixture processes evenly.
2. Add the cocoa powder, sugar and cayenne and blend until evenly distributed. Add 2 tablespoons of olive oil to the almond butter and blend until smooth (like creamy peanut butter), about 5 minutes. Add another tablespoon of oil if you'd like a thinner consistency.
Tip: Spread the Aztec Chocolate Almond Butter on toast, layer with banana slices and enjoy! You can also try it with ice cream or eat straight from a spoon! If there are leftovers, store in the fridge in a glass jar for up to one week.
Get more healthy ideas and delicious snacks by joining NatureBox. Enter coupon code NATURE for 25% off your first month subscription!
A devout student of flavor, Tsz documents her food adventures at Gastrophoria. In the rare moments she's not planning her next meal, she grows businesses through unique design solutions.