This baked recipe has all the satisfying crispiness of fried coconut shrimp – but it's much more wholesome and even easier to make. Serve it with a creamy (but not too creamy!) sweet chili sauce at your next dinner party.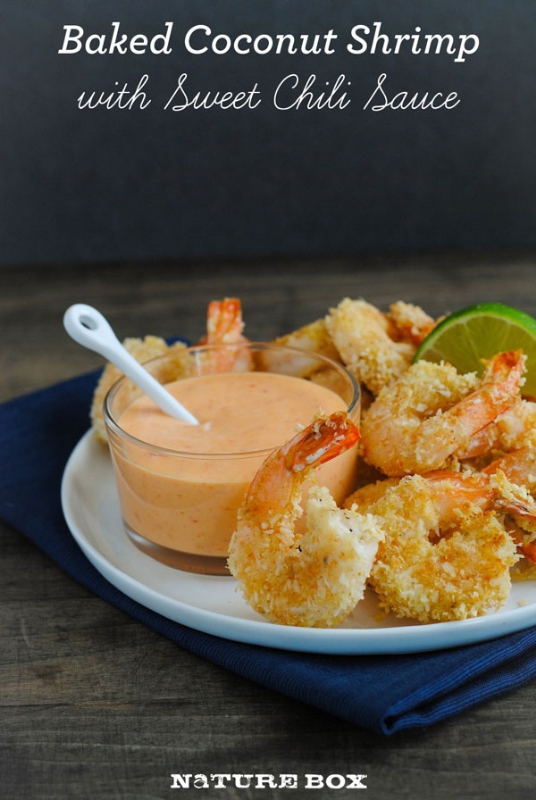 Serves: 6
Prep Time: 20 minutes
Bake Time: 8 minutes
Ingredients:
For the Baked Coconut Shrimp:
Organic nonstick cooking spray
1/3 cup shredded unsweetened coconut
1/3 cup whole wheat panko breadcrumbs
1/4 cup whole wheat flour
2 eggs
1 pound 16-20 count peeled and deveined shrimp
For the Creamy Sweet Chili Sauce:
Juice of 1/2 lime
1/2 cup low fat mayonnaise
1/4 cup Asian sweet chili sauce
2 teaspoons sriracha
Directions:
1. Preheat oven to 425 degrees F. Spray rimmed baking pan with nonstick spray. In shallow bowl, stir together coconut, breadcrumbs and flour. In medium bowl, whisk eggs. Add shrimp to eggs; toss to combine. One at a time, toss shrimp in coconut mixture, pressing lightly to adhere. Place shrimp on prepared baking pan; repeat with remaining shrimp. Lightly spray shrimp with nonstick spray. Bake shrimp 8 to 10 minutes or until golden brown on the outside and opaque all the way through, turning once.
2. Meanwhile, make Creamy Sweet Chili Sauce: In small bowl, stir together all ingredients.
3. Serve shrimp with Creamy Sweet Chili Sauce.
Get more healthy ideas and delicious snacks by joining NatureBox. Sign up today to get 50% off your first box!