I'm pretty much obsessed with sriracha.
Dotted over popcorn, served with a side of sunny eggs, even mixed into ketchup – I just can't get enough of this absurdly spicy condiment.
In this recipe, I used Sriracha Roasted Cashews – that's right, roasted cashews with the zingy, spicy flavor of red-hot sriracha – and blended them to make a homemade nut butter or savory spread. Then I baked up a side of wonton chips for a unique take on classic chips and dip.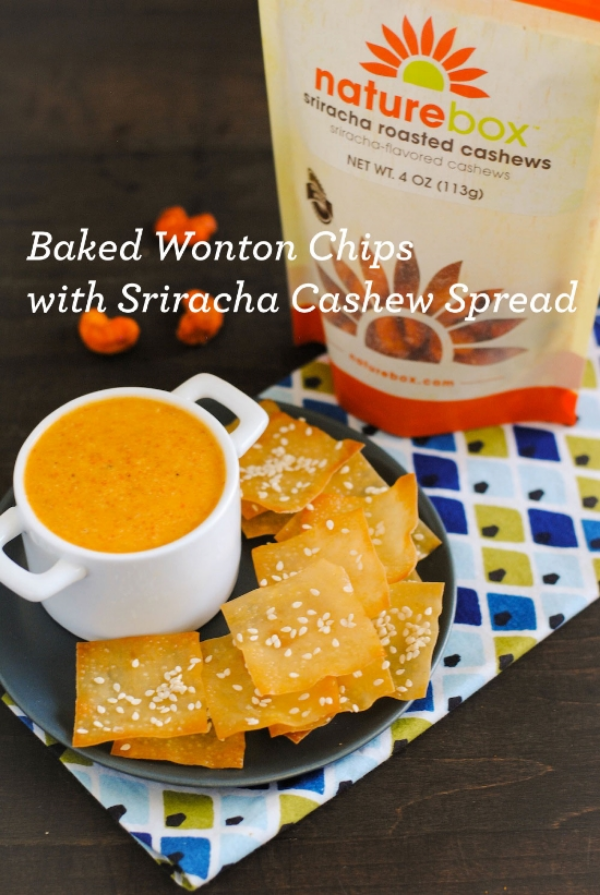 Serves: 6
Prep time: 10 minutes
Cook time: 8 minutes
Ingredients:
For the Baked Wonton Chips:
Organic nonstick cooking spray
12 (4-1/2-inch square) wonton wrappers
1 tablespoon white sesame seeds
For the Sriracha Cashew Butter:
1 bag NatureBox Sriracha Roasted Cashews
2 to 3 tablespoons extra virgin olive oil
Pinch of sea salt (if desired)
Directions:
1. Make the Baked Wonton Chips: Preheat oven to 350 degrees F. Line rimmed baking pan with parchment paper; lightly spray with cooking spray. Cut each wonton wrapper into 4 squares; place on prepared baking pan and lightly spray with cooking spray. Bake 8 minutes or until golden brown and crispy. Remove from oven and immediately sprinkle with sesame seeds.
2. Meanwhile, make the Sriracha Cashew Butter: Place cashews and 2 tablespoons oil in food processor; process on high for 30 seconds for a chunky cashew butter. Add sea salt, to taste, if using. For a smoother butter, scrape down sides of processor and add additional 1 tablespoon oil; continue processing another 30 seconds. Serve with Baked Wonton Chips.
Need to cool down? Serve this hearty snack with some Watermelon Basil Lemonade!
Get more healthy ideas and delicious snacks by joining NatureBox.