"Gratinee" (or grah-tee-NAY) sure sounds fancy but you don't have to feel intimidated by it. It's a French culinary term for a dish that is served au gratin style — topped with seasoned breadcrumbs and cheese and then baked. In this recipe, fresh basil, mushrooms, chicken and penne pasta come together for a substantial one-dish meal. NatureBox Everything Bagel Stix are used as the bread crumbs!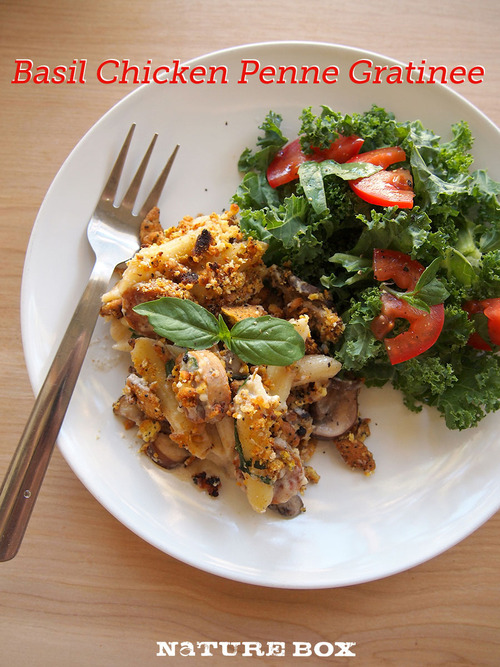 Serves: 4
Prep time: 15 minutes
Cook time: 35 minutes
Ingredients:
2 cups penne pasta
2 chicken sausage, sliced (I used TJ's Jalapeno Chicken Sausage)
4 cups mushroom of your choice, sliced (I used half Shitake and half Cremini)
1/2 cup basil, roughly chopped
2 tablespoons butter
2 tablespoons flour
4 cloves garlic, minced
1/2 cup white wine
1-1/2 cup half and half
3/4 cup Parmesan cheese, grated
1 cup NatureBox Everything Bagel Stix, crushed
4 cloves garlic, minced
Kosher alt
Freshly ground black pepper
Directions:
1. Preheat the oven to 400 degrees. In a small pot over high heat, boil water for the pasta. Salt liberally. Add the pasta and cook until al dente.
2. While the pasta is cooking, saute the sausage and mushrooms in a large skillet over high heat till golden brown. Add garlic and cook till fragrant. Set aside.
3. Lower the heat to medium. Add the butter and flour in the pan and cook for 5 minutes, stirring constantly. Whisk in the white wine, a little at a time to prevent lumps. Stir in the half & half and cook till thickened, about 7 minutes.
4. Turn off the head and stir in 1/4 cup parmesan. Pour the sauce over the pasta and add the chicken mushroom mixture. Season with salt and pepper and stir in the basil.
5. Spoon the mixture in a ovenproof dish and sprinkle with the bagel stix crumbs and the rest of the parmesan cheese. Bake for 10 minutes or until golden brown. Serve with a side of greens and enjoy!
Still hungry? Check out our other pasta recipes!
Get more healthy ideas and delicious snacks by joining NatureBox. Enter coupon code NATURE for 25% off your first month subscription!
A devout student of flavor, Tsz documents her food adventures at Gastrophoria. In the rare moments she's not planning her next meal, she grows businesses through unique design solutions