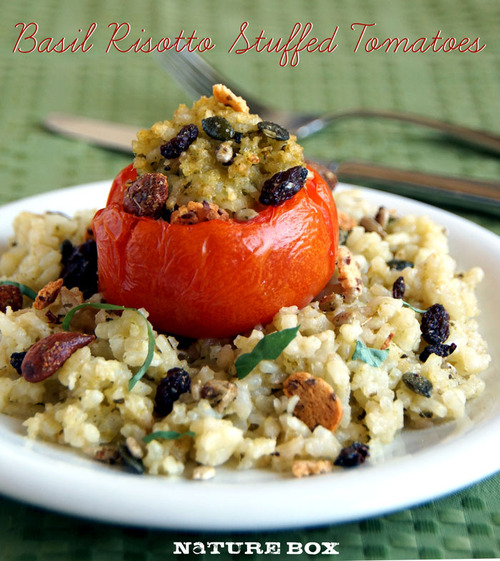 Serves: 6
Prep time: 20 minutes
Cook time: About 50 minutes
Ingredients:
1-1/2 cups arborio
2-3 tablespoons olive oil
2 tablespoons butter
3 tablespoons lemon juice
6 cups low-sodium chicken stock (or vegetable stock)
1 shallot, finely chopped
1 cup basil leaves
2 cloves garlic
1/2 cup shredded Parmesan cheese
1/2 cup NatureBox Tuscan Summer Mix
6 tomatoes
Directions:
1. In a large pot, heat 1 tablespoon olive oil and 2 tablespoons butter over medium heat until butter is melted. Add the chopped shallots and stir for 1 minute. Add the arborio and stir until slightly browned, about 2 minutes. Stir in the lemon juice.
2. Add the chicken or vegetable stock 1 cup at a time, after each cup has been absorbed. Stir occasionally. Simmer for 25 minutes uncovered, until all of the stock has been added and absorbed.
3. In a small food processor or blender, blend the basil, garlic and 1 tablespoon of olive oil. Add the mixture to the pot and stir until well-combined.
4. Remove the Basil Risotto from heat and stir in the shredded Parmesan cheese and Tuscan Summer Mix.
5. Preheat oven to 350 degrees F. Use a paring knife to cut the tops off of the tomatoes and a spoon to carve out the inside. Rub the outside of each tomato with olive oil and place in a shallow greased baking dish.
6. Stuff each tomato with the Basil Risotto and bake until the tomatoes start to wilt, about 15 minutes. Sprinkle the tops with additional Tuscan Summer Mix and serve warm.
Still hungry? Whip up these other summer tomato recipes!
Get more healthy ideas and delicious snacks by joining NatureBox. Enter coupon code NATURE for 25% off your first month subscription!
Kristianne is the founder of My San Francisco Kitchen, where she shares everyday recipes that focus on cooking/baking from scratch.