Last-minute side dishes are one of my favorite things to prepare. It's always a fun challenge to think outside of the traditional green salad or baked potato. This recipe is super simple and offers that happy medium of fresh vegetables and baked savory yumminess. The result? A juicy, slightly sweet, slightly salty, substantial and crunchy dish. Prep it in just 10 minutes and pop it into the oven!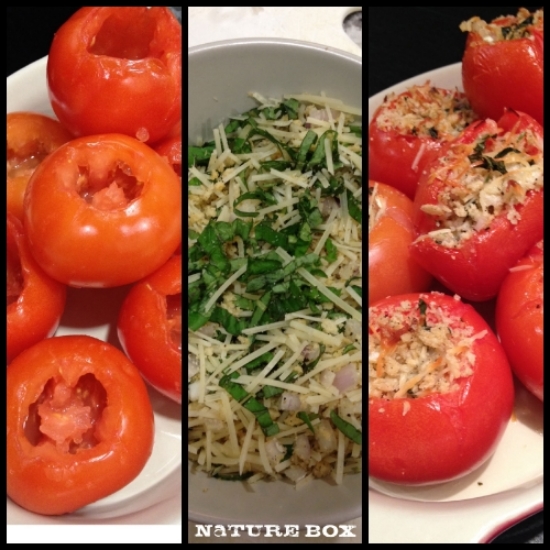 Serves: 8
Prep time: 10 minutes
Cook time: 15 minutes
Ingredients:
8 tomatoes on the vine
8 fresh basil leaves, chiffonade or chopped
1 shallot, finely chopped
1/4 cup shredded parmesan cheese
1/4 cup bread crumbs
1/2 teaspoon dried oregano
Pinch of sea salt
Pinch of freshly ground black pepper
Olive oil
Directions:
1. Preheat oven to 400 degrees F. Hollow out the tomatoes: using a paring knife, carve a small circular hole at the top of each tomato. Using a small spoon (or a grapefruit spoon), scoop out the insides.
2. In a small bowl, mix together basil, shallot, cheese, bread crumbs, oregano, and salt and pepper. Stuff each tomato with 2-3 tablespoons each of the basil-cheese mixture. (You might need to pack in the filling, and leave a mound on top.)
3. Drizzle the tops with a dash or two of olive oil and bake until the tops are light golden brown, about 15 minutes.
Pics or it didn't happen! When you whip up this recipe, post it on Instagram or Facebook with the hashtag #natureboxrecipe so we can like and reshare it!
Get more healthy ideas and delicious snacks by joining NatureBox. Sign up today to get 50% off your first box!