We're bringing the tangy, savory flavors of our backyard barbecues to your bowl of vegan chili. Serve this one-pot meal with a sprinkle of our Southern BBQ Sunflower Kernels and enjoy with your loved ones!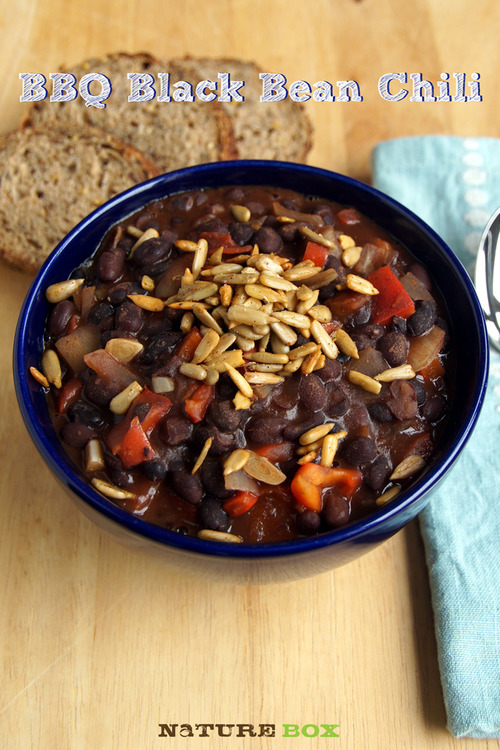 Serves: 2-3
Prep time: 5 minutes
Cook Time: 30 minutes
Ingredients:
2 tablespoons canola oil
2 cloves garlic, chopped
1/2 cup onion, chopped
1/2 cup red bell pepper, chopped
1 tomato, diced
1 tablespoon chili powder
1/2 teaspoon cumin
1/8 teaspoon cayenne pepper
1 16-oz can black beans
1/4 cup BBQ sauce
1/4 cup water
2 tablespoons NatureBox Southern BBQ Sunflower Kernels
Directions:
1. Heat the canola oil in a pot over medium heat and add the onions and garlic. Stir occasionally over 5 minutes, or until onions start to caramelize. Add the red bell pepper and cook for 5 more minutes.
2. Add the tomatoes, chili powder, cumin, cayenne pepper, black beans, BBQ sauce and water. Bring to a gentle boil, then lower the heat to low. Cover and let simmer for 20 minutes, stirring occasionally.
3.Serve warm and top with NatureBox Southern BBQ Sunflower Kernels
Still hungry? Try these other Meatless Monday recipes!
Get more healthy ideas and delicious snacks by joining NatureBox. 
Kristianne is the founder of My San Francisco Kitchen, where she shares everyday recipes that focus on cooking/baking from scratch.