Finding naturally nutritious foods at the grocery store
by NatureBox Nutritionist Kat Brown, MS RD RYT
Have your grocery shopping trips become a drag? Are you in a rut? How about trying some new, nutrient dense foods to mix things up! Spring and summer are an excellent time of year to find ripe, seasonal and even local produce that will knock your socks off with flavor and nutritients. Let's review how to stock up on the good stuff each time you shop.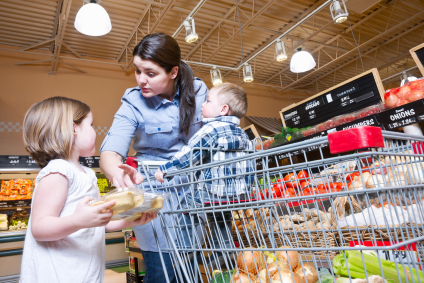 Start with a list! The better planned you are, the more efficient and cost effective you can be. Plot out your week with recipes that include lots of whole grains, legumes, nuts, fruits and veggies which fit your budget, skill set and schedule and then build the list from there. Real Simple has an excellent shopping list that will help you get organized as you plan. 
Purchase as many whole, unprocessed foods as possible on your trip to naturally limit the amount of added salt, sugar and trans fats in your diet. This means sticking to the produce, bulk (for grains, nuts, and seeds), dairy and meat or seafood sections for the majority of your trip. You may have heard this called "shopping the perimeter" of the store since most markets have these foods around the edges of the store and the more processed stuff in the aisles in the middle.
Bright, richly colored fruits and vegetables are not only beautiful to serve, but also tend to be a great source of antioxidants and other beneficial nutrients. That doesn't mean you can never eat iceberg lettuce again. But consider including spinach or even romaine lettuce for a nutrient boost!
Spice it up with new flavors and exotic ingredients. Curry, fresh and dried herbs and cinnamon can add a new twist to old favorites and give a punch of naturally occurring antioxidants.
When possible, buy local and in season. These foods will be delicious and fresh- so they'll disappear from the fridge and contain more of the nutrients that are lost when produce is shipped long distances. Not sure what's grown in your area or when it is most fresh? Check out your local farmer's market or Local Harvest to find what's in season around you and where you can find it.
And of course, remember those reusable bags to lighten your footprint!
Enjoy your shopping trips and see them as an opportunity to find the best fuel for yourself and your family. For even more information about health grocery shopping, food safety and storage tips, check out this guide for shopping, cooking and meal planning strategies.
Stay tuned tomorrow when we'll share grocery shopping tips and tricks from the savvy shoppers in our NatureBox community. Comment, email, tweet or tell us your best tip on Facebook to be included!
Kat Brown MS RD RYT is a San Francisco Bay Area based Registered Dietitian and Yoga Teacher. As a nutrition counselor, writer, cook, and yogini she seeks to inspire others to nourish themselves and live balanced, fulfilled lives. 
Get more healthy ideas and delicious snacks by joining NatureBox. Enter coupon code HEALTHY for 25% off your first month subscription!