Recipe by Sharon Palmer, RD from The Plant-Powered Diet
My husband's Swedish heritage has brought me an appreciation for beets, a somewhat undervalued vegetable that many chefs have rediscovered recently. This glistening ruby salad highlights beets and other winter plant foods. It's certainly sophisticated enough for any special occasion and beyond. The
compounds responsible for beets' deep red hue, called betalains, are anti-inflammatory, too.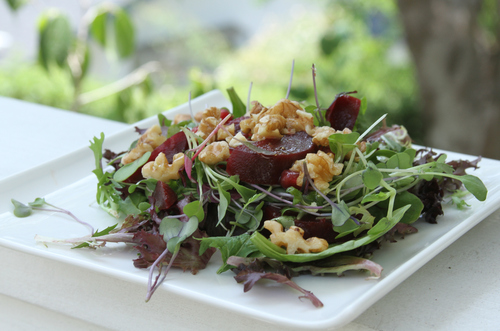 Makes 4 servings (about 9 cups)
Ingredients:
4 cups packed mixed baby greens
2 cups packed assorted micro-greens
2 cups sliced baby beets, cooked and chilled
1 cup fresh pomegranate seeds
3 TBSP coarsely chopped walnuts
1/4 cup freshly squeezed orange juice
1 TBSP plus 1 tsp extra virgin olive oil
1/8 tsp ground black pepper
1 garlic clove, minced
Directions:
1. Arrange the baby greens in a salad bowl or on a platter. Top with the micro-greens.
2. Arrange the beets on top of the micro-greens and sprinkle with pomegranate seeds and walnuts.
3. Whisk together the orange juice, olive oil, black pepper, and garlic in a small bowl.
Drizzle the vinaigrette over the salad and serve immediately.
Note: If you don't have time to cook fresh beets for this recipe, use drained canned beets (preferably with no added salt) or refrigerated cooked beets, which are available in many supermarkets.
Get more healthy ideas and delicious snacks by joining NatureBox. Enter coupon code NATURE for 25% off your first month subscription!

Sharon Palmer is a registered dietitian, food & nutrition writer, editor, and author of The Plant-Powered Diet. She is passionate about foods that are grown locally and sustainably. Check out Sharon's blog, The Plant-Powered Dietitian Blog or take a look at her website.