Think outside the box with this beet and blood orange salad. Hearty, earthy and tangy with a touch of light creaminess from chevre, you'll be sure to impress your friends at the next dinner party.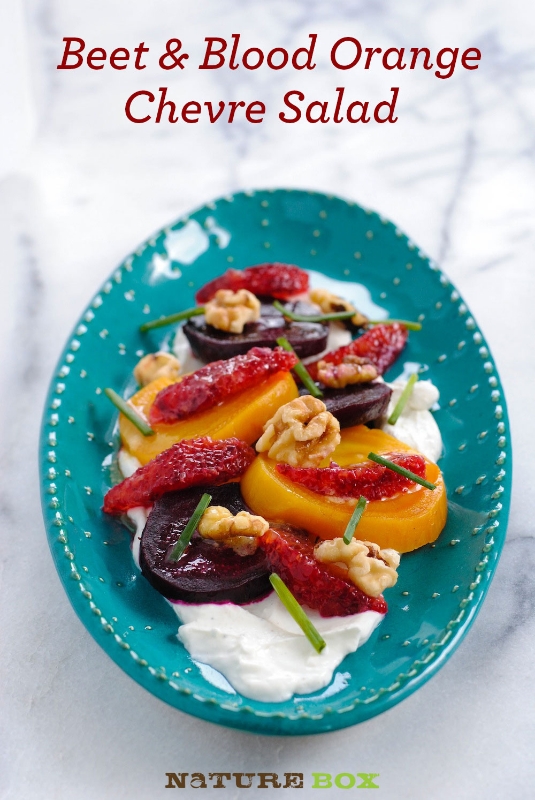 Serves: 4 as a starter or side
Prep time: 15 minutes
Cook time: 40 minutes
Ingredients:
For the Salad:
2 medium golden beets
2 medium red beets
2 blood oranges, peeled and segmented
1/3 cup walnuts
2 tablespoons chopped chives
For the Chevre Cream:
1/4 cup chevre (goat cheese), softened
2 tablespoons light sour cream
Pinch of ground black pepper
For the Vinaigrette:
1-1/2 teaspoons Dijon mustard
1-1/2 teaspoons white wine vinegar
Pinch of kosher salt
3 tablespoons extra virgin olive oil
Directions:
1. Roast Beets for Salad: Preheat oven to 425 degrees F. Place golden beets and red beets in separate foil pouches and place on rimmed baking pan. Roast 40 minutes or until tender. Remove from oven and let stand until cool enough to handle; remove beet skins by rubbing with paper towel. Cut beets into 1/4-inch slices.
2. Meanwhile, make Chevre Cream: In small bowl, stir together all ingredients.
3. Make Vinaigrette: In small bowl, whisk together mustard, vinegar and salt. While whisking, slowly drizzle in oil until all oil is incorporated.
4. Divide Chevre Cream between 4 salad plates, smearing across plates. Arrange beets, orange segments, walnuts and chives over cream. Drizzle with vinaigrette and serve immediately.
Pics or it didn't happen! When you whip up this recipe, post it on Instagram or Facebook with the hashtag #natureboxrecipe so we can like and reshare it!
Get more healthy ideas and delicious snacks by joining NatureBox. Sign up today to get 50% off your first box!