We love using crunchy granola to make these sweetly delicious bars. For this easy recipe, you can use whichever NatureBox granola you like best!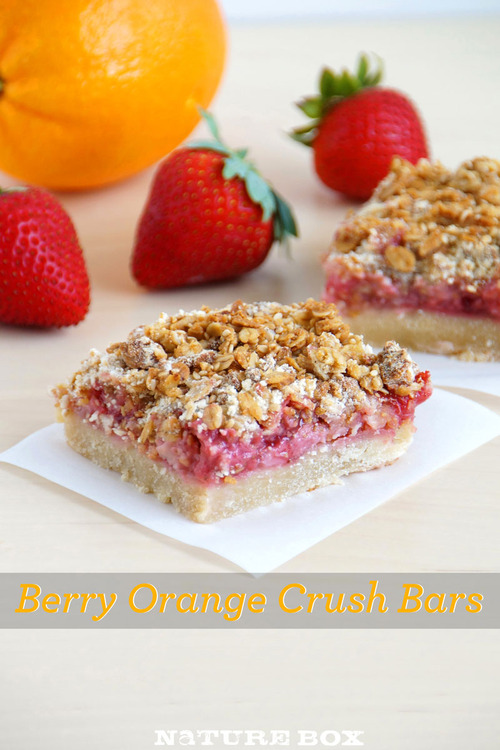 Makes: 9 bars
Prep time: 10 minutes
Bake time: 45 minutes
Ingredients:
3 cups chopped strawberries
3 tablespoons granulated sugar
2 tablespoons cornstarch
6 tablespoons unsalted butter
1/4 cup plain yogurt
1-1/3 cups all-purpose flour
3/4 cup packed brown sugar
2/3 cup NatureBox Orange Crush Granola (or any NatureBox granola)
Directions:
1. Preheat oven to 350 degrees F. Lightly spray non-stick baking spray onto an 8 x 8 baking dish and set aside.
2. In a mixing bowl, stir together strawberries, sugar and cornstarch.
3. In a food processor, pulse together the butter, flour, and brown sugar until there are pea-sized chunks, about 1-2 minutes. Transfer half of the mixture to a separate mixing bowl and stir in the yogurt.
4. Transfer to the baking dish and firmly press into the bottom of the dish. Bake for 10 minutes, then remove from the oven and add the strawberry filling on top. Top with remaining flour mixture, then bake for an additional 25 minutes.
5. Sprinkle NatureBox Orange Crush Granola on top and bake for 10 more minutes.
6. Cool completely, then refrigerate for at least 30 minutes for easier cutting. Store refrigerated. Serve warm, chilled, or at room temperature.
Get more healthy ideas and delicious snacks by joining NatureBox. Sign up today to get 50% off your first box!