Curry On Over to the Spice Cabinet!
by NatureBox Nutritionist Kat Brown, MS RD RYT
Inspired by our August "Snacks From Around the World" box, we're taking a quick trip to the Far East to explore some different Asian cuisines. Grab your passport appetite, and come join us!

The huge expanse of territory that is encompassed when we use the term "Asia" is difficult to even grasp. The food cultures from this region are as rich and diverse as the countries themselves, bringing with them unique and flavorful cuisines. Let's take a "nutritional highlights" approach to Asian cuisine to learn about the amazing health benefits of the way the Asian cultures eat and prepare food.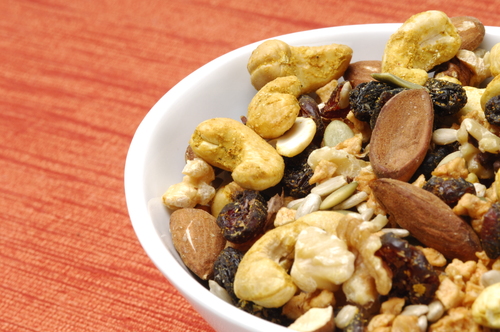 There are three main styles of Asian cuisine, loosely defined by their region- the southwest, including cooking styles that hail from India, Pakistan, Burma and Sri Lanka, the northeast which includes China, Korea and Japan, and the southeast style which is represented by Vietnam, Thailand, Cambodia, Malaysia and Laos. We'll briefly cover all three regions this week here on the NatureBox blog.
Southwest Asian cuisine is highlighted by its use of intense, aromatic spices and curries, and naan-flatbread served with meals. Through the religious practices of Hinduism, cows are revered and used only for their milk and not meat. Healthful practices of this region include a high proportion of vegetarian diets, highlighting use of fiber-rich beans and calcium-rich dairy for protein, and the antioxidant chocked spices used in curries. Turmeric, an ingredient commonly used in curry, is currently being researched for its anti-inflammatory properties, and is touted for potentially decreasing cancer and Alzheimer's risk.
Get more healthy ideas and delicious snacks by joining NatureBox. Enter coupon code NATURE for 25% off your first month subscription!
Kat Brown MS RD RYT is a San Francisco Bay Area based Registered Dietitian and Yoga Teacher. As a nutrition counselor, writer, cook, and yogini she seeks to inspire others to nourish themselves and live balanced, fulfilled lives.