These black bean quinoa cakes make for a hearty yet bite-sized meal. Zip some tomatoes, onions and cilantro in your food processor for the quickest salsa cruda ever, and serve together.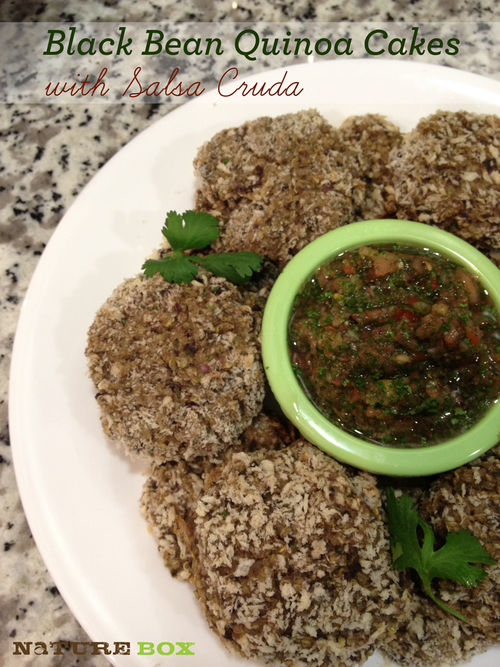 Makes: 12 cakes
Prep time: 25 minutes
Cook time: 20 minutes
Ingredients:
For the Black Bean Quinoa Cakes:
1 10.5-ounce can black beans
1 cup cilantro
2 garlic cloves
1-1/2 cup cooked quinoa
1 egg, beaten (or 2 tablespoons tahini, for vegan substitute)
1/4 cup whole wheat flour
1/2 teaspoon chili powder
1/2 teaspoon kosher salt
1/4 teaspoon freshly ground black pepper
1/4 teaspoon cumin
Pinch of cayenne pepper (optional)
3/4 cup panko breadcrumbs
For the Salsa Cruda:
2 beefsteak tomatoes
1/2 cup cilantro
1/2 cup red onion
2 garlic cloves
Juice of 1/2 lime
1/2 teaspoon kosher salt
1/2 teaspoon freshly ground black pepper
Directions:
1. Preheat oven to 375 degrees F. In a food processor, pulse together the black beans, cilantro and garlic until coarsely pureed, about 2 minutes.
2. Transfer black bean mixture to a medium mixing bowl and stir in qunoa, beaten egg (or tahini) and whole wheat flour until well-combined. The resulting mixture should be moist but not too wet. Stir in chili powder, salt, pepper, cumin and cayenne pepper.
3. Add the panko bread crumbs to a small plate. Form the chickpea-quinoa mixture into 12 equal-sized balls, about 1-2 inches each. Roll each ball in the bread crumbs and transfer to a parchment or silicon mat-lined baking sheet. Flatten slightly to form 3/4-inch thick discs. Bake in the oven about 18-20 minutes.
4. While the Black Bean Quinoa Cakes are baking, prepare the Salsa Cruda: In a food processor, pulse together the tomatoes, cilantro, red onion, garlic cloves, lime juice, salt and pepper until finely chopped, about 2 minutes.
5. Serve the cakes warm or at room temperature with a side of salsa.
Want more quinoa? Try these Chickpea Quinoa Cakes!
Get more healthy ideas and delicious snacks by joining NatureBox. Enter coupon code NATURE for 25% off your first month subscription!
Amanda really wants to help you cook delicious foods and sustain a healthier lifestyle. When she's not goofing around on Twitter she's probably noshing on the pile of NatureBox snacks at her desk.