Calling all blueberry lovers! This pancake recipe uses our Sweet Blueberry Almonds right in the batter and offers a cinnamon-spiced blueberry sauce.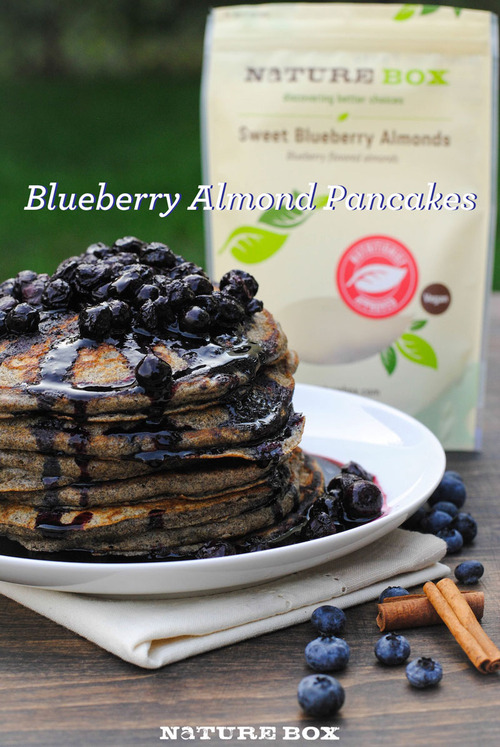 Makes: about 12 pancakes
Prep time: 15 minutes
Cook time: 6 minutes
Ingredients:
For the Blueberry-Cinnamon Sauce:
12 ounces fresh or frozen blueberries
1/4 cup water
1/2 teaspoon ground cinnamon
For the Blueberry Almond Pancakes:
1 cup all-purpose flour
1/2 cup buckwheat flour
2 tablespoons brown sugar
1 teaspoon baking soda
Pinch of kosher salt
1 egg
1 cup buttermilk
3/4 cup milk
3 tablespoons unsalted butter, melted
1/4 cup NatureBox Sweet Blueberry Almonds, chopped
Organic nonstick cooking spray
Directions:
1. Make Blueberry-Cinnamon Sauce: In a medium saucepan, combine blueberries, water and cinnamon. Cook over medium heat 8 to 10 minutes or until berries burst and sauce thickens, stirring occasionally.
2. Meanwhile, make Blueberry Almond Pancakes: In large bowl, whisk together all-purpose flour, buckwheat flour, brown sugar, baking soda and salt. In medium bowl, whisk together egg, buttermilk, milk and butter. With rubber spatula, gently fold wet ingredients into dry ingredients, being careful not to overmix batter. Stir in NatureBox Sweet Blueberry Almonds.
3. Preheat griddle or large nonstick skillet over medium-high heat; spray with nonstick cooking spray. Ladle pancake batter by 1/4 cupfuls onto griddle. Cook 2 to 3 minutes per side or until golden brown and cooked through. Serve topped with Blueberry-Cinnamon Sauce.
Still hungry? Try our other blueberry recipes!
Get more healthy ideas and delicious snacks by joiningNatureBox. Sign up today to get 50% off your first box!
Lori is a Detroit-area food writer, recipe developer and restaurant reviewer. She's usually found in the kitchen cooking up something that undoubtedly involves beets, lemons or coconut for her blog, Foxes Love Lemons. Check out more of her recipes here.