It's always fun to save the sweet treats for special occasions. For Mother's Day, here's a delicious, fun and pretty recipe for blueberry cupcakes with a refreshing lemon frosting! Got some extra Lemon Meringue Waffles on hand? Add them to your frosted cupcakes for a whimsical feel!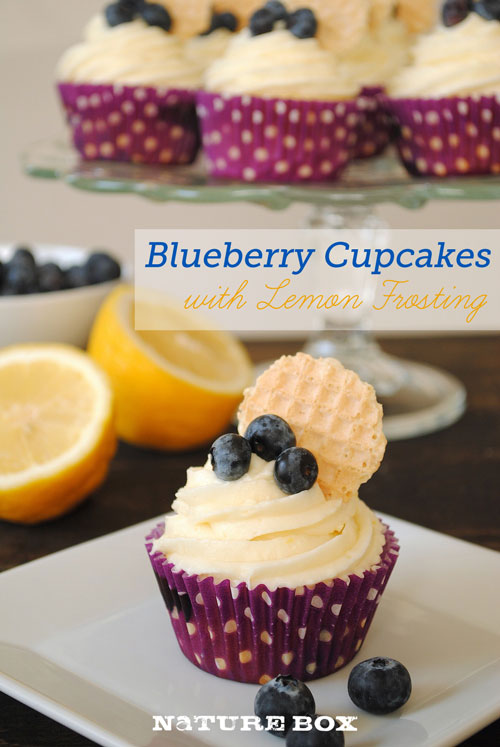 Makes: 30 cupcakes
Prep time: 30 minutes
Cook time: 18 minutes
Ingredients:
3-3/4cups all-purpose flour
1 cup granulated sugar
4 teaspoons baking powder
1 teaspoon sea salt
4 eggs
1 cup low fat milk
3/4 cup low fat Greek yogurt
1/2 cup unsalted butter, melted and cooled
2 tablespoons fresh lemon juice
2 tablespoons lemon zest
2 teaspoons vanilla extract
1 cup fresh blueberries, plus extra for garnish
For the lemon frosting:
1 cup cold unsalted butter, cut into 1/2-inch pieces
2-3/4cups powdered sugar
8 ounces cold low-fat cream cheese, cut into 1/2-inch pieces
1-1/2 teaspoons lemon zest
3/4 teaspoon vanilla extract
30 NatureBox Lemon Meringue Waffles, for garnish
Directions:
1. Preheat oven to 350 degrees F. In medium bowl, whisk together flour, sugar, baking powder and salt. In large bowl, whisk together eggs, milk, yogurt, butter, lemon juice and zest, and vanilla.
2. Add dry ingredients to wet ingredients; whisk just until combined. Fold in blueberries.
3. Line 30 muffin cups with paper liners. Fill each cup 3/4 full. Bake until toothpick inserted in center of cupcakes comes out clean, rotating pans between upper and lower racks halfway through baking, about 18-20 minutes. Cool cupcakes in pan on wire rack 10 minutes. Remove cupcakes from pan and transfer to wire rack to cool completely before frosting.
4. For the frosting: In a large bowl, with mixer at low speed and gradually increasing to medium, beat butter and powdered sugar until butter is broken into pea-size pieces and incorporated with the sugar, scraping bowl occasionally, about 3 minutes. Reduce speed to medium-low. Add cream cheese, several pieces at a time, until all cream cheese is incorporated, scraping bowl occasionally. Add lemon zest and vanilla; increase speed to medium-high and beat until frosting is smooth, about 30 seconds.
5. Using a piping bag fitted with a star tip, top cupcakes with frosting. If frosting is too thick to pipe, let stand at room temperature 10 minutes before piping. Garnish with Lemon Meringue Waffles and blueberries.
Note: Using regular cream cheese will result in firmer frosting
Plus, here are lots more fun sweet treats!
Get more healthy ideas and delicious snacks by joining NatureBox. Enter coupon code NATURE for 25% off your first month subscription!
Lori is a Detroit-area food writer, recipe developer and restaurant reviewer. She's usually found in the kitchen cooking up something that undoubtedly involves beets, lemons or coconut for her blog, Foxes Love Lemons. Check out more of her recipes here.