Any chance you still have Sweet Blueberry Almonds leftover? Zip them in your food processor along with a few other ingredients, and add to some ramekins with fresh berries! The result? The positively divine cobbler.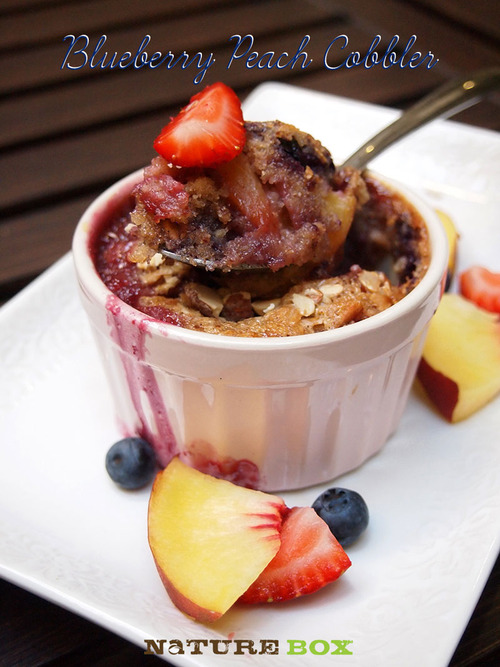 Serves: 4
Ingredients:
3 cups peaches, pitted and sliced
1 cup blueberries
1 cup strawberries, quartered
1/4 cup whole wheat flour
1/4 teaspoon baking powder
1 egg
1 pinch salt
1/4 cup chilled butter, cubed
1/2 cup sugar
2 tablespoons rolled oats
Directions:
1. Preheat the oven to 375 degrees F. In a large mixing bowl, toss together the peaches, blueberries and strawberries and split evenly among 4 ramekins.
2. In a food processor, pulse the almonds until ground, about 1-2 minutes. Add the flour, baking powder, salt and sugar and pulse quickly to mix well. Add the chilled butter and process until the mixture resembles coarse sand. Add the egg and pulse until the mixture is well blended.
3. Split the mixture evenly among the 4 ramekins and sprinkle with the oats. Bake until golden brown, or about 30-40 minutes. Serve immediately and enjoy!
Get more healthy ideas and delicious snacks by joining NatureBox. Enter coupon code NATURE for 25% off your first month subscription!
A devout student of flavor, Tsz documents her food adventures at Gastrophoria. In the rare moments she's not planning her next meal, she grows businesses through unique design solutions.