Breakfast for lunch? You bet! These lunch boxes are sure to come home empty with all of this yumminess inside.
Sending my kids to school with delicious and healthy lunches helps me take comfort in knowing they'll have great days and full bellies. I love to portion everything into simple boxes so it's not only delicious, but visually appealing. Today, I'm sharing breakfast-style lunches with a little something for everyone! See all of the details below.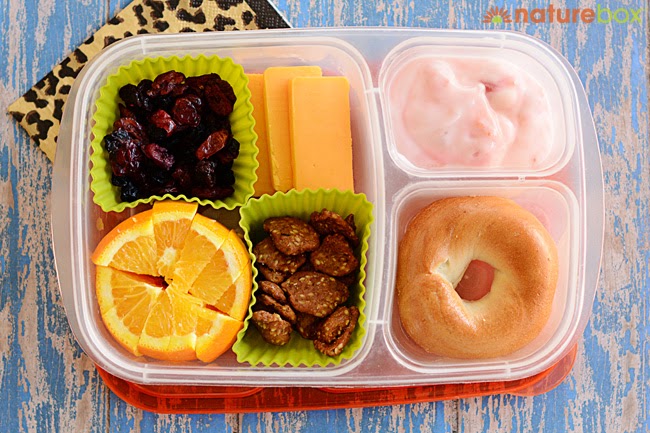 My younger son loves the NatureBox Cherry Berry Bonanza in the top left portion of this box. I love using simple square-shaped silicone muffin holders to portion the boxes into even smaller portions. It works well for my little guy. Also pictured are cheese slices, a cut-up orange, NatureBox Honey Crunch Crisps, yogurt, and a mini bagel.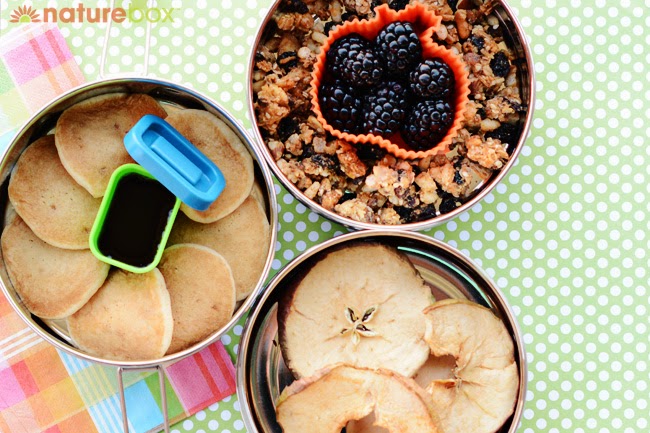 When we have weekend breakfasts, I'll make a few "silver dollar" pancakes and freeze them for the week ahead. They're perfect for lunch boxes…I can put them in frozen and they'll thaw by lunch. I also included a little container for syrup, too (because what's a pancake without syrup?). This breakfast-style lunch also includes blackberries, NatureBox Banana Bread Granola (one of my new faves!), and NatureBox Fuji Apples.
Finally, one of my favorite things to make for my kids' lunches are muffins. I freeze them at the beginning of the week and pack them each day while they're still frozen so that they thaw in time for lunch. Also in this lunchbox are raspberries, blueberries, cantaloupe, NatureBox Banana Bread Granola, and yogurt.
Adding Dried Cherries to my muffin recipe makes for a fruity sweet addition. The cherries plump up during the baking process to make them so sweet and juicy. You can find the recipe here.
Want some Cherry Oatmeal Muffins? You can make them at home!
Get more healthy ideas and delicious snacks by joining NatureBox. Sign up today to kick off your membership with a free trial!
Kristi Dominguez is a former event planner and part-time graphic designer. She blogs at IShouldBeMoppingTheFloor.com where she tackles projects to turn her cookie-cutter home into something more exciting. A lot more exciting.