I was flipping through Instagram the other week and came across the best recipe I never made.
It was from my coworker who's awesomely diligent about cooking wholesomely and often. The dish in question was for buffalo chicken lettuce cups. I haven't stopped thinking about it since so I finally asked her for the recipe.
"Oh, you know, you cook the chicken in the buffalo sauce. Then you julienne the vegetables and serve in the lettuce leaves!"
Duh. Why didn't I figure that out myself? I went straight to the grocery to pick up ingredients and had to make a last-minute substitution – radicchio instead of butter lettuce. The result was a totally-crunchy wrap that stood up well to the spicy buffalo sauce and tangy bleu cheese!
I'm now officially obsessed. And you will be, too. Enjoy!
Serves: 3-4
Prep time: 25 minutes
Cook time: 15 minutes
Ingredients:
1-2 tablespoons olive oil
2 chicken breasts, butterflied (about 6 ounces each)
Kosher salt
Freshly ground black pepper
1/3 cup buffalo sauce
3 celery stalks, thinly sliced
3 carrots, thinly sliced
1 head of butter lettuce or radicchio
2 ounces bleu cheese (optional)
Ranch dressing (optional)
Directions:
1. In a medium iron or stainless steel skillet, heat olive oil over medium-high heat. Meanwhile, lightly season the chicken breasts on either side with a pinch each of salt and pepper. When the oil is hot (after about 2-3 minutes), add chicken breasts. Cook until lightly browned and just done, about 3-4 minutes on each side. Side aside to slightly cool.
2. Meanwhile, thinly slice the celery and carrots. De-leaf the lettuce or radicchio.
3. When cool enough to handle, cut the chicken breasts into bite-sized cubes, about 1/2-inch thick. Return to skillet and cover with buffalo sauce. (You might need more or less, depending on the size/quantity of the chicken.) Over medium-low heat, bring to a low simmer, stirring occasionally, about 5 minutes.
4. Serve the chicken, celery, carrots, lettuce or radicchio leaves, bleu cheese and ranch dressing in separate bowls and assemble at the table!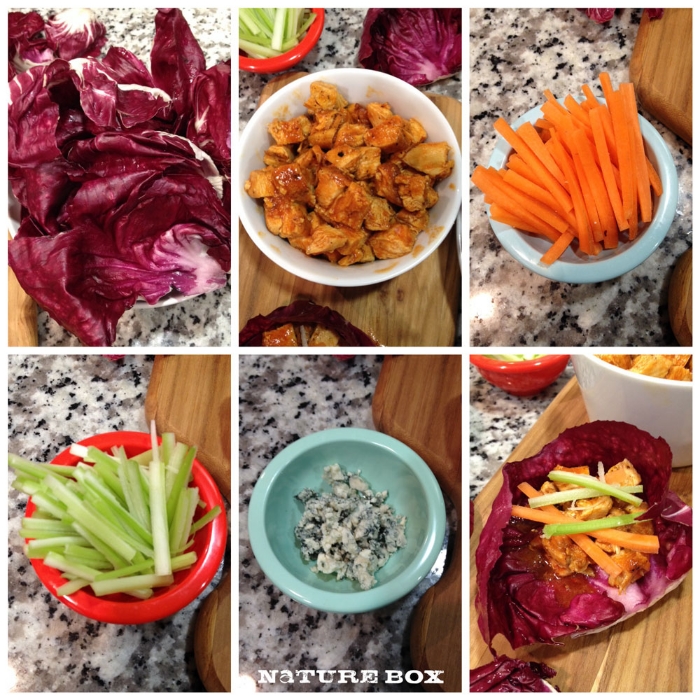 Still hungry? Check out our 7 ideas for turning snacks into meals!
Pics or it didn't happen! When you whip up this recipe, post it on Instagram or Facebook with the hashtag #natureboxrecipe so we can like and reshare it!
Get more healthy ideas and delicious snacks by joining NatureBox. Sign up today to get 50% off your first box!