These protein-loaded quinoa bites are perfect for snacking or as a party appetizer. With tangy cheese, buffalo sauce and a Greek yogurt bleu cheese dipping sauce, you can snack on these all day (if they last that long!).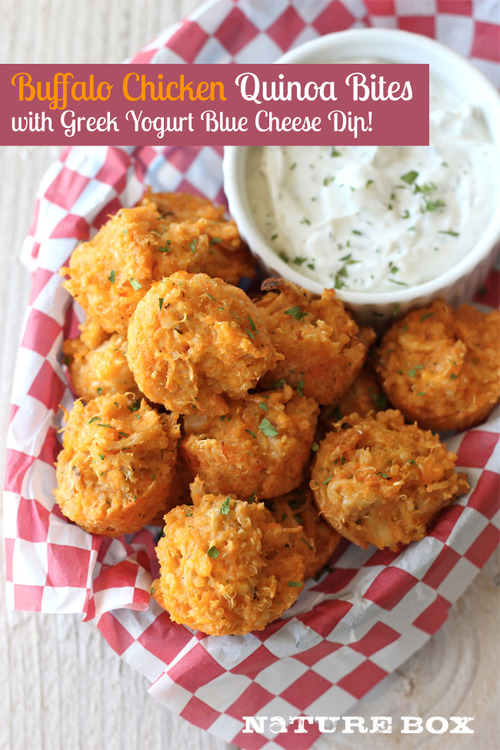 Serves: 4
Ingredients:
1 cup cooked quinoa
1 cup shredded chicken
1/4 cup goat cheese
1/4 cup sharp cheddar
1/4 cup buffalo sauce
1/4 cup Panko breadcrumbs
1 large egg, beaten
2 tablespoons whole wheat flour
Kosher salt and freshly ground black pepper, to taste
For the dipping sauce
1 cup Greek yogurt
1/4 cup blue cheese
1/2 teaspoon garlic powder
1/2 teaspoon dried dill
1/2 teaspoon dried parsley
Kosher salt and freshly ground black pepper, to taste
Directions:
1. In a small bowl, combine Greek yogurt, blue cheese, garlic powder, dill, parsley, salt and pepper, to taste; set aside in the refrigerator.
2. Preheat oven to 350 degrees F. Lightly oil a mini muffin pan or coat with nonstick spray. In a large bowl, combine quinoa, chicken, goat cheese, sharp cheddar, buffalo sauce, Panko, egg, flour, salt and pepper, to taste.
3. Using a small cookie scoop, scoop the mixture evenly into the muffin tray, about 1 1/2 tablespoons for each. Place into oven and bake for 18-20 minutes, or until golden and set. Serve immediately with dipping sauce.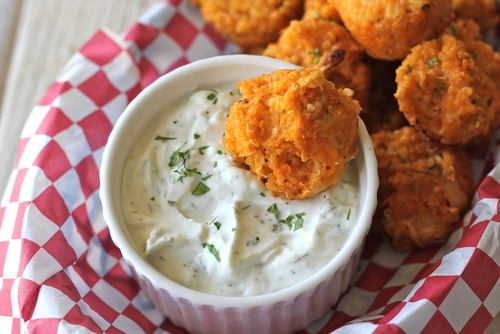 Still hungry? Try our other party food recipes!
Pics or it didn't happen! When you whip up this recipe, post it on Instagram or Facebook with the hashtag #natureboxrecipe so we can like and reshare it!
Get more healthy ideas and delicious snacks by joining NatureBox. Sign up today to get 50% off your first box!