by Alex London-Gross, MPH, CHES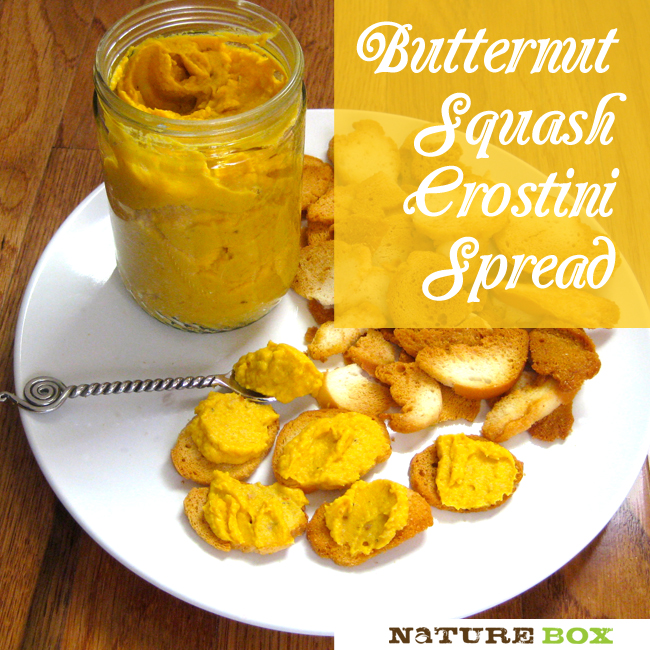 Making your own butternut squash puree is easy and can be used in a number of ways. It is a great addition to soups, mixed in with mac and cheese, or even stirred into your morning oatmeal.
This butternut spread is can be used as an appetizer or on sandwiches in place of mustard or mayonnaise. This base is easily jazzed up by adding maple syrup for a sweeter spread or goat cheese for something creamy. It would be perfect to take as an appetizer to your Thanksgiving dinner as a guest or serve as a fancier football game snack!
Ingredients:
1 ½ cup butternut squash puree (from one medium squash)
½ TBSP olive oil
1 shallot, minced
2 TBSP tahini paste (almond butter would also work)
½ tsp each salt and pepper
Toasted baguette slices or crackers for serving
Optional: 1-2TBSP of maple syrup or goat cheese for a sweet or creamy spread
Directions:
Preheat oven to 350°F. Cut the squash in half and remove the seeds. Arrange squash on a greased rimmed baking sheet, cut sides down, and bake for 45 minutes or until fork tender. Set aside to let cool. Use a spoon to scoop out all of the flesh away from the skin.
Add 1 ½ cups to a food processor. Heat olive oil in a large skillet over medium-high heat. Add shallots, salt and pepper and cook until golden, about 5 minutes. 
Add the cooked shallots and tahini to food processor with squash and purée until smooth.
Spread over warm baguette slices and serve.
Get more healthy ideas and delicious snacks by joining NatureBox. Enter coupon code NATURE for 25% off your first month subscription!
See more of Alex's clean and clever eats over on her blog, Quarter Life Cupcake.