Can't get enough of our BBQ Kettle Kernels? Try coating them onto this Cajun Fish Taco Recipe!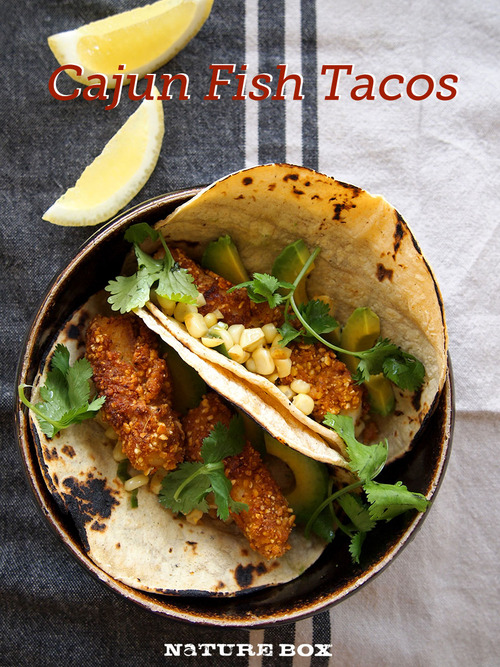 Makes: 4
Prep time: 20 minutes
Cook time: about 5 minutes
Ingredients:
1-1/4 cups NatureBox BBQ Kettle Kernels
1 teaspoon Cajun seasoning
2 pinches cayenne pepper (optional, for spiciness)
1 ear fresh corn, shucked
1 green onion, sliced thinly
1 lemon, cut into 8 wedges
8 corn tortillas
1 egg
1 tablespoon water
1 pound cod fillet, sliced into 3-inch sticks
3 tablespoons olive oil
Kosher salt
Freshly ground black pepper
1 bunch cilantro
1 avocado, sliced thinly
Directions:
1. In a food processor, grind the Kettle Kernels with Cajun seasoning until it resembles corn meal. Pulse in Cajun seasoning and cayenne pepper, if using. Add mixture to a shallow bowl or plate and set aside.
2. Over high heat, quickly saute the fresh corn with green onion. Season with salt and pepper, to taste and a squeeze of lemon.
3. Warm the tortillas by passing them over a stove burner set on low heat till they blister and soften. Cover the tortillas with a warm towel.
4. Crack the egg in a small bowl and whisk with 1 tablespoon of water. Dredge fish sticks into egg and then dip into the Kettle Kernel mixture. Gently place the coated fish sticks on a plate.
5. In a nonstick skillet over medium high heat, heat olive oil. When the pan is hot, add in 8 fish sticks at a time and saute until golden brown and cooked through, about 5 minutes.
6. To serve, place 2 fish sticks on a tortilla and top with 2 tablespoons of fresh corn. Layer on 3 slices of avocado and a sprig of cilantro. Serve with a lemon wedge and enjoy!
Pics or it didn't happen! When you whip up this recipe, post it on Instagram or Facebook with the hashtag #natureboxrecipe so we can like and reshare it!
Get more healthy ideas and delicious snacks by joining NatureBox. Sign up today to get 50% off your first box!