Here's a healthy eating hack: Make a big batch of plain quinoa at the beginning of the week and add it to baked dishes or substitute it in place of rice in your main dishes. We love quinoa every which way but in this recipe, we baked it with tomatoes, basil and parmesan cheese and topped it with balsamic reduction!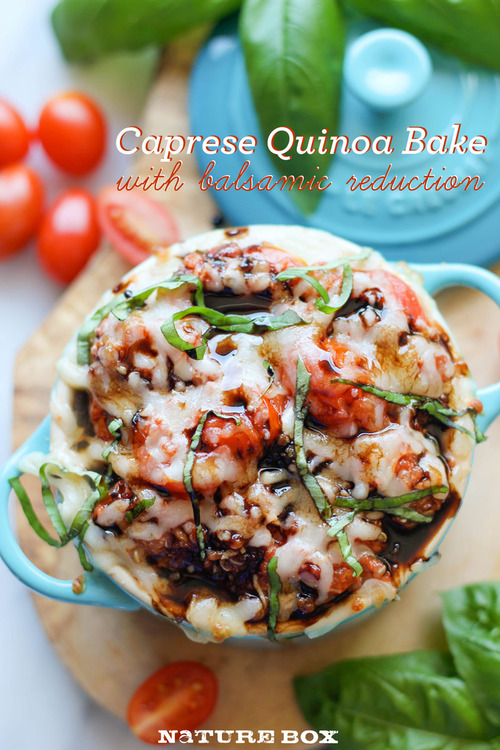 Serves: 4
Prep time: 15 minutes
Cook time: 20-25 minutes
Ingredients
1/2 cup balsamic vinegar
2 tablespoons brown sugar
1 (15-ounce) can tomato sauce
2 cups halved cherry tomatoes
1/2 teaspoon garlic powder
1/2 teaspoon basil
1/2 teaspoon oregano
1/4 teaspoon crushed red pepper flakes
Kosher salt
Freshly ground black pepper, to taste
1-1/2 cup cooked quinoa
1/4 cup grated Parmesan
1 cup shredded mozzarella cheese, divided
1/4 cup basil leaves, chiffonade
Directions:
1. Preheat oven to 350 degrees F. Lightly coat an 8×8 baking dish with nonstick spray.
2. In small saucepan over medium heat, add balsamic vinegar and brown sugar and bring to a slight boil. Reduce by half, about 6-8 minutes. Set aside to let cool.
3. In a medium saucepan, combine tomato sauce, tomatoes, garlic powder, basil, oregano and red pepper flakes over medium heat; season with salt and pepper, to taste. Cook, stirring frequently, until tomatoes are tender, about 5-7 minutes. Stir in cooked quinoa, parmesan and 1/4 cup mozzarella.
4. Add quinoa mixture to prepared baking dish and top with remaining cheese. Place into oven and bake until cheese has melted, about 5-10 minutes. Serve immediately, garnished with basil leaves and drizzled with balsamic reduction, if desired.
Still hungry? Have more quinoa!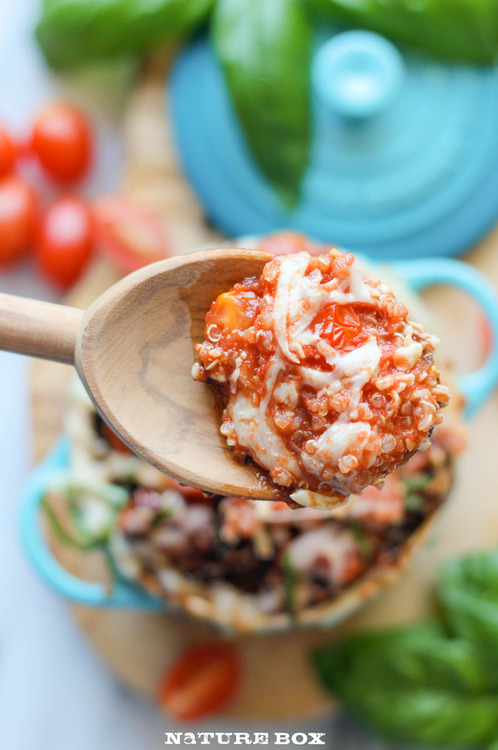 Pics or it didn't happen! When you whip up this recipe, post it on Instagram or Facebook with the hashtag #natureboxrecipe so we can like and reshare it!
Get more healthy ideas and delicious snacks by joining NatureBox. Sign up today to get 50% off your first box!